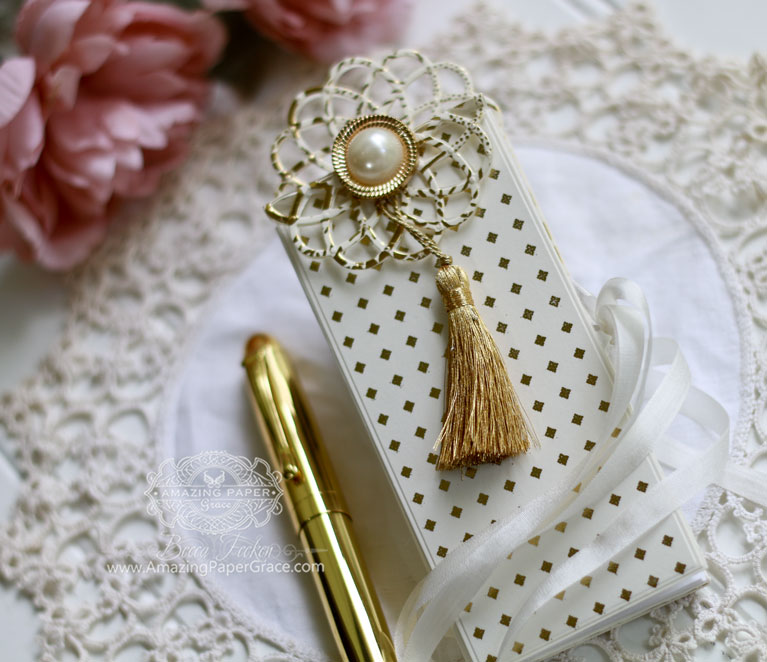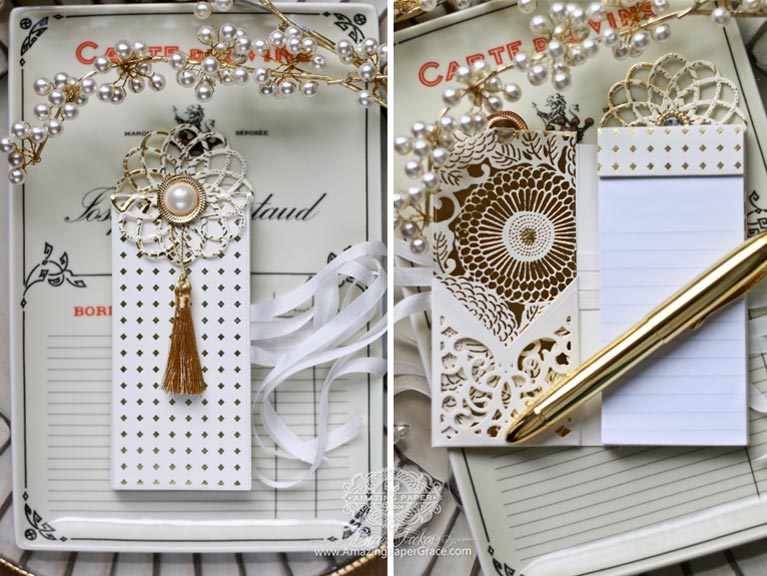 We're so excited!  For months we've been bringing you creative ways to use your dies to make stunning cards.  Not today!! Today, we're showing you how to make anything but a card.  I issued the challenge that the creative team could pick any die and not use it in the way in was originally intended. What that means for you is everything we are showing today is pretty much outside of the box.  Dies are meant for this kind of inspiration and as you hop around, you'll be amazed at some gorgeous creations that will have your head shaking.  Yes there are prizes, but have your gift list sitting by so that you can pick out the next gifts you might be making for someone special.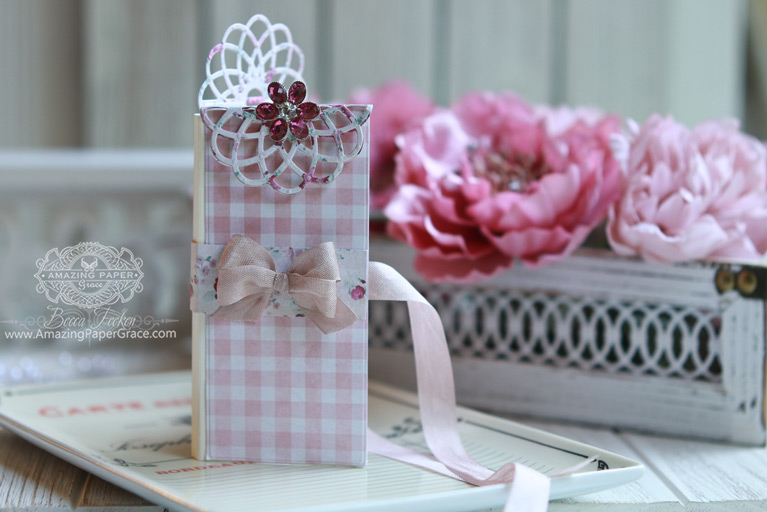 I'll tell you a little bit about my creation and will share a link list below so that you can see the creations of each person on the Creative Team as well as information on how three lucky people can win Amazing Paper Grace Dies.




I keep mini legal pads around the house and because they are so economical.  To make them even more of a deal, I take them to Office Depot and have them cut in half vertically and it doubles my stash.  The resulting pad is long and tall and perfect for list making.  I knew I wanted to create a little portfolio using the Filigree Bookmark Die along with the Filigree Pocket.  So I had my paper pads cut to 2-1/4″ wide and had them cut shorter to 5″ tall.  You can get 2 pads out 1 mini legal pad like I'm showing below.



I cut four bookmarks along with a piece of cardstock cut to 5″ x 5-1/4″ and scored 2-3/8″from each edge to make a tall side fold panel.  I glue a bookmark to the front, back and insides while matching to make it look like it's one bookmark.  On the front, I folded down swirl motif by half and the half swirl on the front along with the swirl on the back, look like a full swirl.  The half mini legal pad is secure because you simply slide it into a pocket and then there is a pocket on the left hand side of the portfolio to keep other notes or your list for the day.  These tie closed but it would be just as easy to put any other closure you dream of.


Stamps:  None
Paper:  Neenah Classic Crest – Natural White – Cover – 80lb smooth, My Minds Eye
Ink:  None
Accessories:  Amazing Paper Grace Dies,  Spellbinders Filigree Bookmark, Spellbinders Filigree Pocket,  PL-001 Platinum™  Die Cutting And Embossing Machine with 8.5″ Platform, The Paper Studio – Pearls, May Arts Silk Ribbon
How to Win:
Hop around to each Creative Team Member and leave a comment on each blog, three lucky winners will win a die of their choice from the Amazing Paper Grace Vintage Elegance Collection.    In making the rounds, a comment should be left on the August 15th Blog Post of each Creative Team member – in your comments let us know if there is a project you would consider making.
When to Check Back:
We'll pick and post the three winners on Saturday August 19th on the Amazing Paper Grace Blog.
How to Claim:
The winners have two weeks from the time the blog post is published to claim their die.  Simply click on the contact tab at the top right hand corner of the Amazing Paper Grace blog, leave your mailing address and type the name of the die you'd like.  Becca will be sending out the winning die.  Please give us a month, we'll get it to you, promise!
Who can Play:
Any of our lovely readers including our international friends.
To start thinking Outside of the Box, hop to:
Visit Becca      –  at amazingpapergrace.com/blog/
Visit Melissa  – at keepsakesbymelissa.blogspot.com
Visit Teresa    –  at victorianpaperqueen.com
Visit Anita      – at craftingforever-anita.blogspot.com
Visit Kristi      – at kristispapercreations.blogspot.com
Visit Joanna   – at joannakrog.blogspot.com
P.S.  These are all gifts you can make, yes you!!  Please feel free to ask questions of all the designers in their comments because we all love to mentor readers through making wonderful gifts for their families.