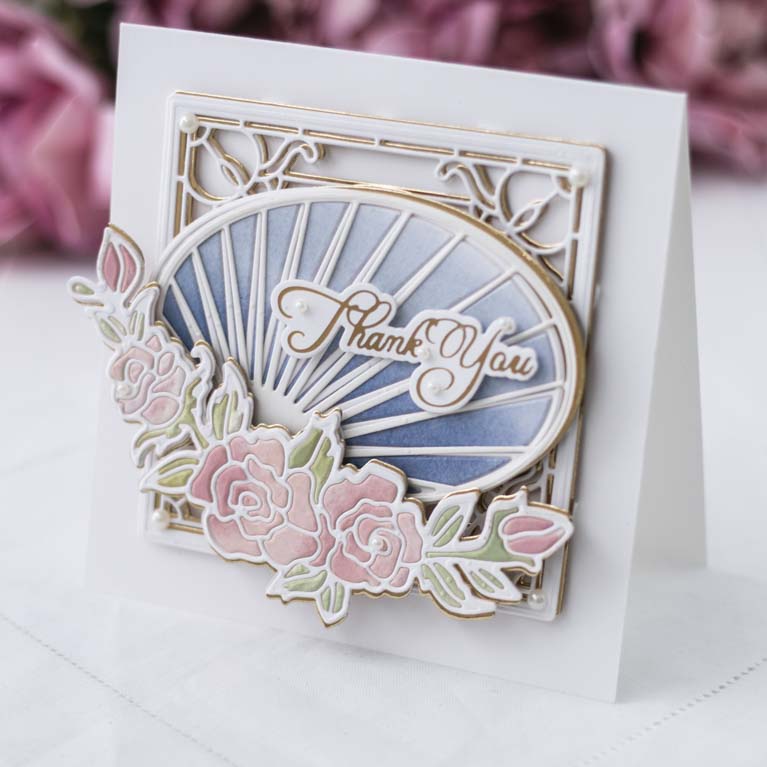 It's a miracle that little painted shards of glass can come together to create such beauty!!  The intriguing lure of Stained Glass has inspired artisans from around the world to try their hand at shuffling colors and shuffling shards of glass to create something lovely to gaze upon.  Today we are introducing the newest Amazing Paper Grace collection called Stained Glass Floral Bouquet, created for Spellbinders.
Some links may be affiliate links, buying products through these links generates a commission at no cost to you
Stained Glass Floral Bouquet Inspiration
I always wanted to do stained glass with real glass!  Who says you can't have your cake and eat it too?  Now it's easy to create with paper!  It's amazing how you can give the same outline to a hand full of different artists and each will come up with a totally different look.
Stained Glass Floral Bouquet Collection
The Stained Glass Floral Bouquet Collection is made up of 7 different die sets.  They are sized for layering and include small designs all the way up to A7 designs with different frames that can make both A2 and A7 designs.  The collection boasts shadow dies for each set so that whenever you don't want a multicolor design, you can layer your "die-cut leading" onto one color.  The hallmark of the collection is a sweet stained glass flower and shadow in almost every set.  As a result, that gives you a background die and a central motif for each set.
Attention "technique junkies" this collection is sweetly serenading you to try your favorite technique with the leading and the shards.
Here are ours:
Fill each opening with a different color paper and add Glossy Accents.
Ink on a hombre background before resetting your shards.
Add a smidge of color in each opening with a Copic Marker.
Use a different color leading – white, black, gold, silver.
Build up tall leading with 4 layers and adhesive in between each.
My Projects for Today
I'm using S5-448 – Radiant Oval
For my project today, I've made two cards.  For the first, I've done traditional stained glass which emphasizes the leading.  It was a perfect opportunity to create some ink blends.  Once the ink was laid down on the paper, I then cut with the die.  I just love bringing romantic color to these motifs!!



For my second card, I went with two colors to keep things simple.  If you are pressed for time, this creates a fabulous look without any coloring!
Designers Tip: For an ink blended ombre, it's easiest to create your ombre on flat paper then diecut  from the flat paper.
Stained Glass Floral Bouquet Availability:
These dies and plates are available from Spellbinders right now! Click here: Stained Glass Floral Bouquet Collection.
Stained Glass Floral Bouquet Collection Blog Hop!
Click on the links to each member, they're waiting to inspire you to create something beautiful:
Visit Anita Kejriwal
Visit Linda Parker
Visit Kate Skonieczna
Visit Joanna Wisniewska
Visit Beatriz Jennings
Visit Patricia Manhire
Visit Agnieszka Posluszny
Visit Elena Olinevich
Visit Nida Tanweer
Visit Tara Brown
Visit Becca Feeken at Amazing Paper Grace
Giveaway!  
You could win an Amazing Paper Grace Die of the Month! Enter to win on our new Instagram Account https://www.instagram.com/amazingpapergrace_creates/. All of the entry details are there, look for this image below:
So tell me, which technique do you really want to try?


Stained Glass Floral Bouquet is a labor of love for me.  I've tried to create it many times in the past however, this year it simply clicked.  It's a favorite, and I have looked forward to releasing it.  As a result, I hope you enjoy the inspiration we are sharing with you today.  I'm reminded of what a blessing it is to keep hands busy – I hope it is the same for you too!!