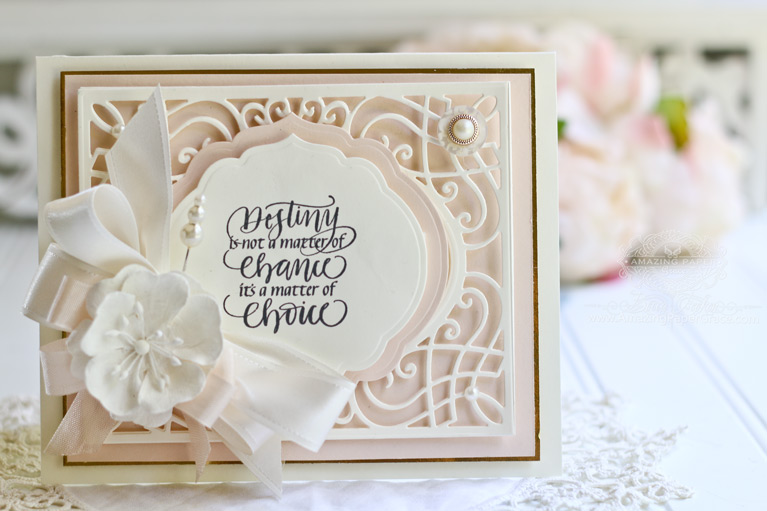 Hi there friends, I'm so grateful to be posting today.  I've saved the explanation of where I've been for the bottom of my post but in the meantime, can you believe it, I have a card today and a tutorial to share!  Yes,  I've had a chance to play with the Romancing the Swirl Collection!  Before we get to the video tutorial below (half way down my post), I wanted to show you how easy it is to set up graduated layers using nested labels and plant them on a background for a sweetly layered look.  For this card I'm using one of my new dies, Corner Cotillion and Curvy Labels – they are classics!
Also a note – I'm so tickled to say that 3D Vignettes is back in stock after months of coming in quickly and going right back out.  It also looks to be on sale for a short while.   I'm creating more of these lovelies to fit the Grand Base Cards, so there will be many more options to come.  Oh, and many thanks for the people who are sharing their lovely cards on Facebook and Instagram – I'm in awe every time I see one!

My Card Today – with Graduated Layers
In my creating I found 3 to be a great number – a great number of layers, that is.  I selected a background to make up one of the layers – the bottom.  It just so happens that in the center of the background there's an oval on the background that mimics a layer.  On top of that, I added two nested layers.  With the graduated layers, it gives me the opportunity to mat with another color and the contrast between the layers draws your eye right in.  I love the dimension that it gives the card and just an easy way to highlight that wonderful sentiment by Quietfire Design – Destiny – such a beautiful saying!!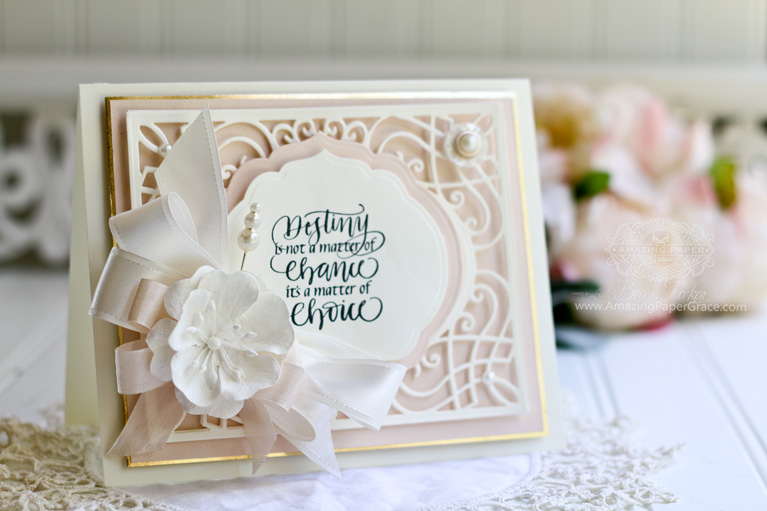 Corner Cotillion is one of those "all-in-one" dies meant to do the heavy lifting.  In other words you could use it by itself and have an instant card or you can use the graduated layers as I have done here.  With elegant detail on the outside, it will take just about any classic label shape centered, to make a great (and easy) card.
A New Video Tutorial
I'm also, so tickled to link you to a new tutorial!   For nine years you've been seeing my hands and this time you get meet the real me!!  I was honored to have been asked by Scrapbook.com to film several videos for you.  I had much fun and would love to do it again!  In this particular video I show you how to make a box with this die and I also show you how to put flowers together with this die.  The tools I've used to make these items are linked below the video.
A Pin for you :-))


Stamps: Quietfire Design – Destiny
Paper:  Neenah Classic Crest – Natural White – 80lb Smooth,  Bazzill – Pale Rose
Ink:  Versafine – Onyx Black, Ranger Clear Detail Embossing Powder
Accessories:  Amazing Paper Grace Dies by Spellbinders, Corner Cotillion , Curvy Labels, Satin Ribbon, Poppies & Paperie Flower, Pearls, Buttons


Lol, I know I've been missing – all good stuff!! I've been so busy designing, with not much time to create.  The blessing is that along the way I took a short mental break – or a refresh, and it has done me a world of good health wise.  Normally, I'm on a computer almost all day but during this period I carved out time to try to make my walking and some other good things, a 'habit'.  Imagine my thrill to see how beautiful it really is outside every day.   You know they say it takes 30 days to make a habit!!  I've done good with my habits.  Good exercise, good sleep, good self care and well needed.  And as always. when I'm quiet, I've been working on new things for the future!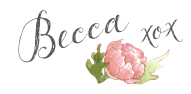 ;