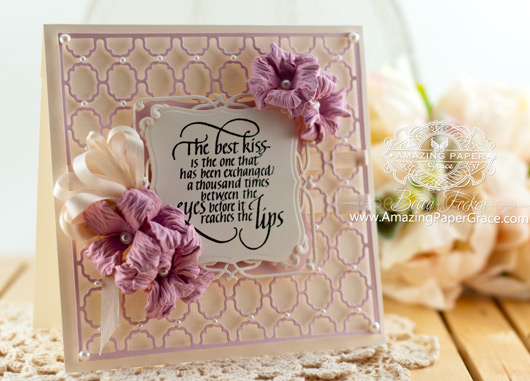 I'm so tickled to share this morning!  I'm sharing the flower tutorial you all have been requesting and there was no better way to show those flowers off than with a new Quietfire Design sentiment – a cuddly, lovely, romantic one at that!! As you know, I've been so smitten with scrunched paper flowers as of late.   They are so easy to make and after seeing the inspiration on Pinterest, I set about to figure out how to ease them into my workflow.   To me the key is to have a nicely balanced die template that will allow you to work with the wet paper without tearing the petals off and for this I'm using Spellbinders Garden Blooms (by A Gilded Life).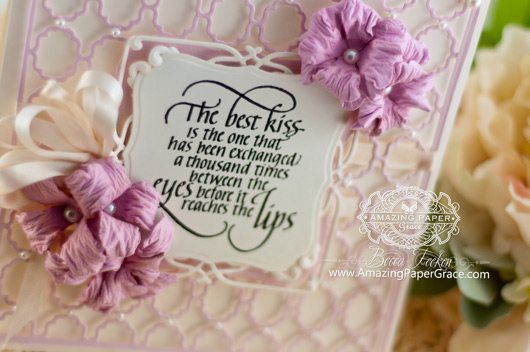 My 6″ square card features another outstanding set of new stamps by my friend Suzanne Cannon with Quietfire Design, it's called The Best Kiss.  This is definitely for the heart throb in your life and I say its a promising candidate for new found romance, wedding and anniversary or just to show love.  It's my first time to try out a couple of new Spellbinders that have been sitting on the shelf – the background is Spellbinders Labels One Card Front.  I embellished the Card Front with Spellbinders Labels One and the accent piece from Spellbinders Imperial Square (there are four pieces, they are all turned upside down and glued behind Labels One).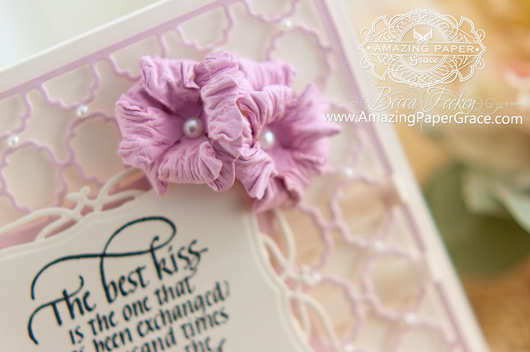 So here's the video showing how I made the flowers:
Thanks so much for stopping by!  I actually made a card with the flowers and ribbon shown in the video and I'm hoping I can share it next week!  So who's putting flowers on their list of things to try next?
Question Parking Lot:
In case you wondered . . .
I used Papertrey Ink paper for the blooms on the card above.  For the video I used Coredinations – you should do fine with almost any paper you choose :-)
I prefer to dry petals over night but they can be dried with a heat gun if you're impatient.  The heat gun makes the petals more brittle in my opinion.
No snipping needed on top petal if you want an open hollow in the center of your flower.  Snip the center, roll and glue to fill in that hollow with top petal.
The extra petal I made in the video looks much like the spritzed petals I made except the coloring is more subtle and the overall color is the color of the original paper.