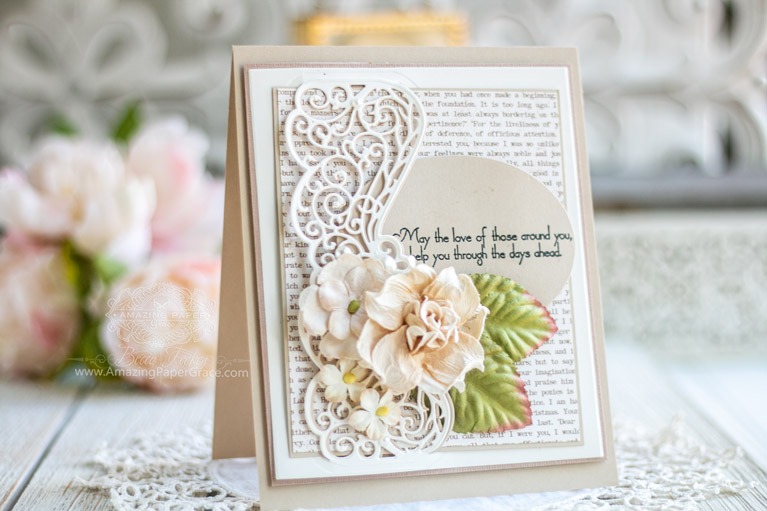 I love a slip-in card because if I go with the flow, it's an easy make.  Simply cut the slip in, add a panel, add embellies and sentiment and I'm done.  Hi there friends, I always look forward to the beginning of the month and the opportunity to show you what I've been working on.   The Rose & Filigree Duo Slip In Card has been on my heart for a while.  I get emails from followers all the time and they tell me what types of things will make their craft time easier.
This Slip in concept makes for a very easy card.  The decorative inlay cut die holds your focal panel in place – just add a sentiment!!  It creates a stunning horizontal or portrait-oriented card and is sized to work for a 5 x 7 card but if you get creative, the elements will also work in an A2 card as belly bands.  I've put together a video to show you how the slip in concept works – it's below.
Rose & Filigree Duo Slip in Samples
Here I'm using the rose panel but have it turned horizontally and it acts like a belly band.  It gives me enough room to add a decorative panel and tuck extra items inside the band.  I've used the filigree panel as a decorative edge behind everything.
For this sample, I've melded together four of the filigree panels to make a full background by overlapping them slightly.  The background afforded me room to pop up a sweet sentiment!


As always the creative team and I are working in the background on makes.  It's rough but someone has to do it right?!?  Join us on December 11 when we roll out additional inspiration for these dies.