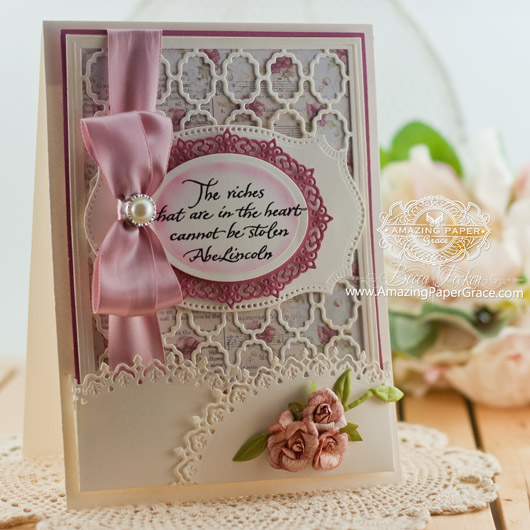 Hi there friends Happy Spring!  I've been absent again but this time I was knee deep in designing new dies!  Immersed is not the word for what was going on in my studio but you'll be tickled when you see what's coming this fall.  My head is absolutely exploding with ideas so sometimes I just have to sit down and work them out.  I'm back tho' and can I just say how much I missed you!!   Hopefully going forward I'll be able to space out my design time so I 'm not gone for so long.    I've had a stack of almost finished cards calling my name so I just wanted to pop in and share one today.  As you know, I like to look at a die from all angles to figure out what else it can be used for.  So I have some new dies to show today and right off the bat, I'm going to cut them up to extend their use.  I had no idea how much I loved ovals but when I go back over my stash  I see them again and again. Spellbinders Oval Majesty is a new oval in the mix so I used it double duty today.  I used it to make corner pockets at the bottom of my card and then again as a layer under my sentiment.  I've thrown in a picture below just to show you how easy and different it was to make the pockets.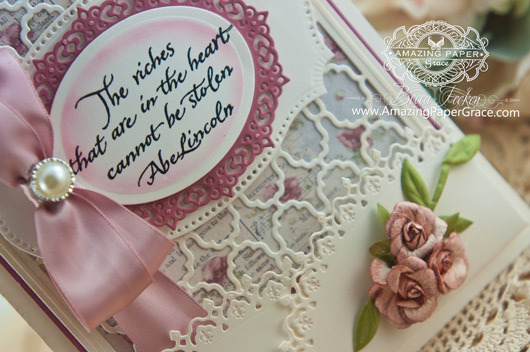 I was enticed by the new Spellbinders Grate Effect background and put some pretty design paper behind it to create a 5 1/2″ x 7-1/2″.  On top of that I layered Spellbinders Majestic Labels Twenty Five followed by Spellbinders Oval Majesty and Spellbinders Classic Ovals SM.   You all know by now that these sweet romantic colors are mine through and through – I've tried not to reach for them, but I'm lying to myself when I don't.  I encourage you to change up your colors, these are only suggestions.
CRAFT SUPPLIES I USED 
Stamps: Wordsworth – Lincoln Collection
Craft Paper: Neenah Classic Crest – Natural White – Smooth, Coredinations
Ink:  Versafine – Onyx Black
Accessories:  Satin Ribbon,  Mulberry Flowers
I hope your day is glorious on this first day of Spring.  I've been cooped up in the house for weeks now and and as soon as I hit send on this post I'm putting on my sneakers to go take a walk though the neighborhood.  Please know I'm sending you much love and joy – you are all dear friends and I'm so, so happy to be chatting with you again.   I'll be back in a day or so!  Mwah!!
Question Parking Lot