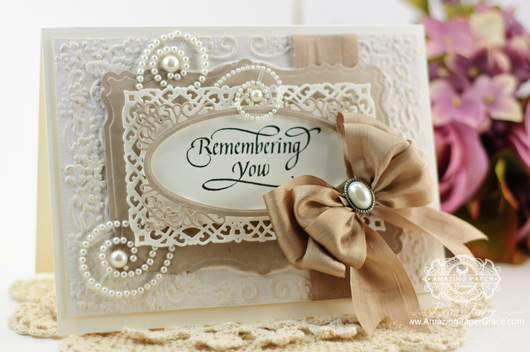 Sweet friends, so sorry for the late post — I couldn't let you come today without having something crafty to show, so I sat down to make a card before answering all the remaining questions there were left in comments on the last post :-)  Hang on until the end of the post for the winner information in the mean time, thank you for all the comments about my storage.  The Question Parking Lot will be featured at the end of appropriate posts going forward so that everyone can benefit from the answers.  Today, I'm sharing a card that will work well in memorial and will work very well for the upcoming holiday.  It's a new sentiment from Quietfire Design Garden Bench Collection; it's simple and it's classic.  When I looked through my stash, this was one I did not have.  Although I'm not a scrapbooker per se, I'm thinking about doing some memorial pages because this stamp will work into what I had in mind fabulously.
Here's how I made it – step by step:
I started out with a card base sized at 5-1/2″ x 7-1/2″.  After embossing a panel using Spellbinders  Labels Thirty Four Medallion, I trimmed the panel down to 5″ x 7″, attached ribbon on the right side and adhered with foam tape.  I added a new die cut layer using Spellbinders Labels Twenty Nine and adhered it with foam tape.  The next die cut layer was cut using Spellbinders Romantic Rectangles Two; my sentiment was stamped before adhering with a double layer of foam tape.  The last die cut layer was cut using Spellbinders Radiant Rectangles.  I finished up with a sprig of pearls, a silk bow and an oval pearl brad.
Did you ask a question about my last post?  Zoom on over to the Question Parking Lot to see the answer!
Here's your winner for the clear cases!!  Be sure to reach out to me through the contact tab at the top right side of the blog with your address so that I can pass it on – you have 48 hours to claim them.
Loving my awesome readers, I'll see you soon!!
Question Parking Lot