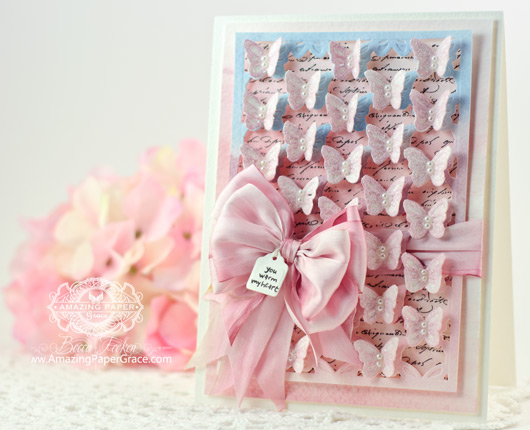 Well friends, I still have 20 clear cases to give away – the winner did not come forward to claim their prize.  If you're not familiar with these lovely cases,  here's the post where you can check them out:  My Clear Case Storage.  Leave a comment on this post, using Random.org I'll pick and post a winner on Tuesday, May 27th.   I'll repeat the rules at the bottom of my post.  In the meantime I have a card to share that simply made me smile when I worked on it.  The pieces and parts of this card have been laying on my counter for about a week and every day I'd glitter something or wet something to move me along to the end.  This week has been quite a phone week so I snipped the butterflies out of one full die cut sheet while I was chatting.  Today while I was waiting for my computer to copy some files, I finished it up.  I've had this idea to float these sweet butterflies using Spellbinders Butterflies since it came out.  I love it when something turns out like you hope it will.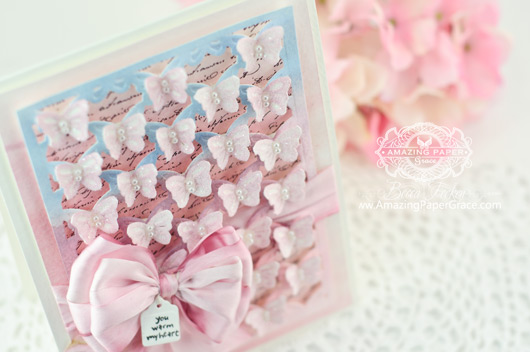 The entire card is made of watercolor paper.  For the die cut layer I simply used a wet paint brush and swished color from a diluted re-inker across in pink, purple and blue.  After dry, I ran through die cutter.  I made another panel slightly bigger than the die cut layer.  I did the same wash but this time I used only pink and once dried, I stamped a print across.  This panel fits right behind my butterflies die cut.  Then I die cut one more layer of butterflies out of paper I washed with pink.  I sprayed adhesive on and covered with glitter.  As you can see, the butterflies are connected together – I simply snipped in between each butterfly to release it.  After folding each Butterfly in half, I hot glued them right over the outlines of butterflies on my die cut sheet then put a smidgen of hot glue on the back of two pearls I popped into the middle of each butterfly.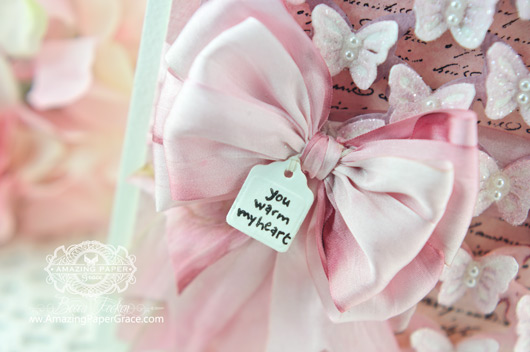 The last thing I did was attached a bow that was hand dyed using the same re-inker I used for the pink washes.  Oh, and the cutest little tag ever came from Spellbinders Back to Basic Tags.  I stamped a little saying on it from Wordworth Stamps.  So tiny and so cute!!
So again, I'd love to see these cases go to a winner!  Here are the rerun of the rules:
What You Can Win:
Free Shipping to destinations in the US
In order to win, leave a comment on this post before Tuesday, May 27th at noon CST.  You are allowed to leave one comment per day.  The name will be be picked by comment number through random.org and  I'll post the name of the winner on  Tuesday May 27th (please check back) and the winner has to claim their prize with 48 hours by responding with their address through my contact tab at the top right hand of the blog.  I'll forward the address on to TapeOnline for shipping directly to the winner.  The clear cases are offered only for domestic US Shipping because for international guests, the shipping exceeds the cost of the cases HOWEVER, if you are one of my sweet international guests, I'll offer an alternate prize of stamps and paper that I'll take care of shipping.  Hopefully the second time will be the charm!!
Let me know if you have any questions about the card!
1.  Julie Blake, comment #32 asked where to get the ribbon I used for the card above. Julie it is white silk ribbon that is 1.25″ in width and I dunked it in a small cup with several drops of Ranger Industries Victorian Velvet Re-inker.   May Arts has a list of retailers HERE.
2.  Kathleen Kelley, comment #249 and Marge, comment #312 and asked respectively,  (a) How do you get them in the mail? Most of my cards are mailed and would be squashed? and (b) One question, if you were mailing this card how could you prevent the butterflies from going flat?  Thanks for the question ladies, this is the top asked question on my blog and I thought it best to show you .  I used to buy the kraft bubble mailers but found them to be quite pricey, so I get these Cardboard DVD Mailers for quite a bit less.  There's ample room for bow and my butterflies won't get smushed :-)