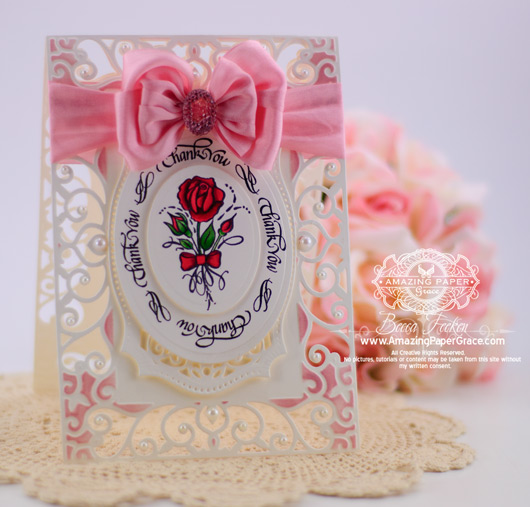 Good morning blog friends!!  I wish I could show you what I have laid out in my craft room.  I've been so inspired to create and rather than put off that wonderful feeling, I decided to run with it. From one end of the counter to another I gave myself permission to start things that are not finished.   I have tons of dies cut and the basics of many cards laying, ready for more inspiration to hit.  Do me a favor, give yourself permission to do that too.  It doesn't have to be perfect, it just has to be.  Today's card came quickly, just when I needed a quick card.  I started out with the gorgeous set of stamps from Quietfire Design using the beautiful rose and oval sentiment from the Floral Thank You set.   Oh, and I colored – that doesn't happen often, but when it does, it has to be easy.
My card base is made with Spellbinders Exquisite Labels Eleven using the Filigree Hinged Card Base tutorial I've shown before.  That leaves me a platform to layer on Spellbinders Majestic Labels Twenty Five  followed by two levels of Spellbinders Classic Ovals SM.
Here is your Step-by-Step Recap from the bottom up:  Start out with a card base cut using Exquisite Labels Eleven (stenciled), foam tape, die cut layer using Majestic Labels Twenty five, foam tape, die cut layer using Classic Ovals SM, foam tape, die cut layer using Classic Ovals SM.  Add pearls and ribbon.
Hope you find some inspiration somewhere in the world today, it's good for your little ole creative heart :-)