Hi there sweet friends, thank you so much for your patience while I finished up some projects I needed to finish.  Earlier this week I used a technique to ink the border of my dies for a card and lots of you had questions and quite of few of you requested a video.  I have another card to show using the same technique and a video to go along with it.  There are a couple of ways to get this look, so I hope you take a second to review my video and I hope you'll try the technique on your own.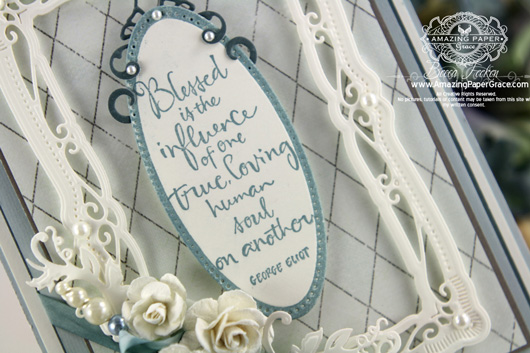 Here's the video:
Now on to my card, I framed it up with Spellbinders Radiant Rectangles, added some embellishment with Spellbinders Fantastic Flourish Two and Spellbinders Venetian Accents.  I finished up with a bow, some mulberry flowers and a pen. To recap the layers I used from the bottom up, a cardbase 5 -1/2″ x 7-1/2″, cream matting layer 5-3/8″ x 7-3/8″, foam tape, dark blue matting layer 5-1/16 x 7-1/16″, light blue matting layer 5″ x 7″, foam tape, brown matting layer 4-5/8″ x 6-5/8″, blue design paper layer  4-1/2″ x 6-1/2″,  foam tape, Radiant Rectangles die cut and oval, Venetian Accent embellishment on oval, Fantastic Flourish Two embellishment on flowers.  Add Ribbon, Flowers and Pin  on appropriate layer.
I have another short video to share with you tomorrow – I want to feature one of my tool heroes.  I hope you'll come back in check it out – I think you'll be surprised!