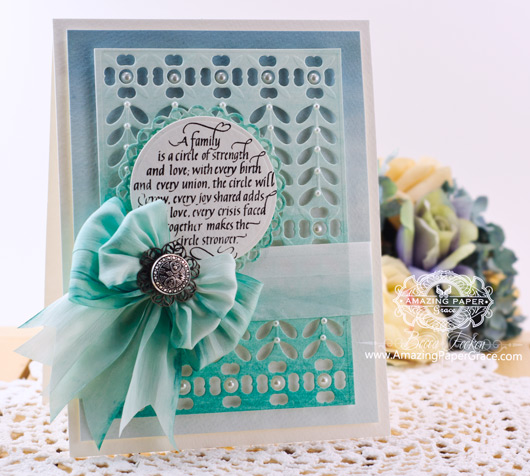 Anyone who doesn't know that dabbling in paints and coaxing color all over paper isn't pure, unadulterated therapy . . .  well, that person is missing out.  It has been so busy in my life lately that standing at the craft counter and slathering paint and ink – what can I say – pure.joy.   I'm so taken with the look of ombres. It doesn't look like I got too inky but the serene wash of color and the understated look was just what I hoped for.  I taped my watercolor paper down to the counter and wet it down, then added the gradual shades of blue.  Then the same thing on another sheet making gradual shades of green.  When I assembled the card I started the heavy part of the background ombre at the top and reversed it with the next die cut layer.  While I was doing the green, I dyed up some white silk ribbon into a green ombre – so dreamy.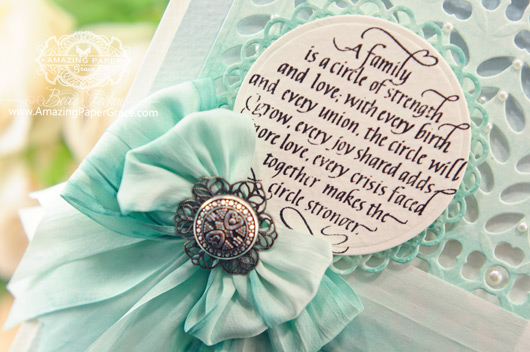 This is the first time I've used Spellbinders French Harmony – oh my, what a lovely background and it cut like butter.  I also used Spellbinders Standard Circles Small and Spellbinders Stately Circles.
Here's how I made it – step by step:

Start out with a card base that measures 5-3/4″wide – 7-1/2″ tall.  

From watercolor paper that has been painted with a wash of reinker, cut a panel 

5-1/4″ x 7″, then attach to base with double foam tape, leaving  foam at bottom of panel unadhered.

From watercolor paper that has been painted green with a wash of reinker, cut/emboss French Harmony, then attach to base with double foam tape.

Take an 8″ length of ribbon to span across card, lift up bottom layer of card and anchor to back side of bottom panel, secure bottom layer.

Cut/Emboss Stately Circles #3, attach to base using double foam.

Stamp Quietfire "A Family is a Circle of Strength" using Versafine Onyx Black and heat emboss using clear embossing panel then cut/emboss sentiment with Standard Circles SM #5 then attach to base using double foam.

Add double bow, pearls, filigree and button.

 
Tip:  There are many ways to make a double bow, the easiest way is to stack two  graduated size bows on top of each other.
Thanks so much for stopping by.  Oh, and happy Friday  :-)
On a more somber note, condolences to our Dutch friends and the many countries who lost citizens on the plane crash yesterday.  It was a horrible event and the loss of so many innocent lives, absolutely tragic.
Question Parking Lot:
Maureen Killen, comment #1 mused that I must get sick of reading the same comments each day.  My answer to that is Never!!  As a matter of fact, I look forward to interacting with this community every day.  I know many of you by the fact that you come every single day.  You can't know how very grateful I am.  Just knowing you are here is enough!  You all are the real people I design for!!  After 6 years and almost 1600 posts sometimes the inspiration well goes dry and I've found the people who come here fill my sails with inspiration.  It's never a requirement to leave a comment, I'm so grateful you stop by.  Lol, when both of those cease, I think that'll be my hint to move on :-)
Carol B, comment #02 asked if I taped down the ribbon to dye it.  I hadn't thought about that – might be work a try!  But no, what I did was set it in water.  I hope to have a video soon on the ways I dye ribbon because I take the easy way out :-)  Stay tuned.
Charlotte, comment #03 asked where the Question Parking Lot is.  Hi Charlotte, the Question Parking Lot is right here :-)  It doesn't appear until someone asks a question about the card displayed.  Then by magic of blogs, the question is answered and the answer appear here.  People typically check back to see if the answer to their question has appeared in the parking lot.   Thanks for asking that question Charlotte, it has come up several times for people new to my site.
Marly T, comment #05 asked what colors I used for the ombres.  For the blue I used Ranger Distress Ink – Stormy Sky.  For the minty green I used Ranger Antiquities – Topiary.  On looking out and about, I can't seem to find the latter online so I assume it is retired.  I hate that because I went through every green reinker I had to come up with the right color.  (This clearly demonstrates that I never throw anything out….)
Ronny, comment #38 asked what size ribbon I use.  I use a couple of different sizes but my favorite fabrics are silk and rayon due to their lovely drape.  On my card today I've used 1.25″  white silk ribbon.  I also use 1/4″ and 1/8″ for multiloop bows.  My other go ribbon is the Hug Snug Seam Binding, which is a rayon.  The size of that ribbon is 5/8″.  You'll see my older cards have really wide ribbon and my taste has definitely changed over time to smaller width ribbon.
Rose Newlun, comment #39 asked how to stack layers and how long it takes me to make a card.  I usually set up my layers to be graduated so that the layer behind is always at least a little bit revealed.  My advise is to look at what other folks have done and after you've done that for a while it will become easier to improvise your own.  Get a couple of layer sets you really love then change out one die – that's another way.  Don't get discouraged, there is no right or wrong.  Whatever you decide to put on your card, it's from your heart and it's the right thing.  The card above took a couple of hours, not long at all.