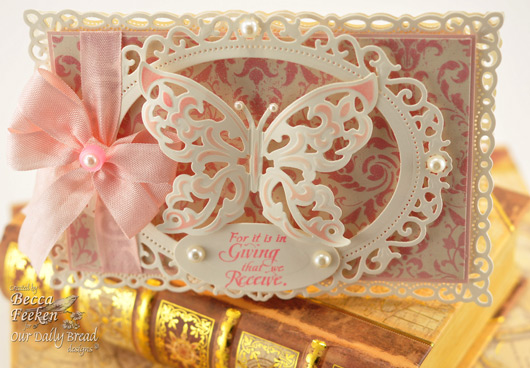 Welcome to the Our Daily Bread Designs April 1 Release Blog Hop!  If you got here from Julie Warners blog, you are in the right place!  If you just happened here, you might want to hop on over to the ODBD Blog and start from there so you don't miss a chance to win any of the four great prizes this month, and pick up all the details there! You have until Monday, April 2nd at 8:00pm Eastern Time  to complete the hop!  Stay tuned for the details below!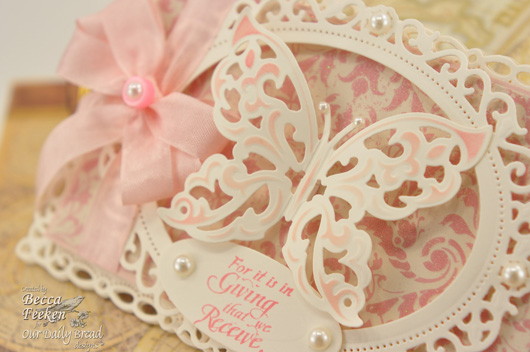 In the meantime I put together a small card to show off one of the new Our Daily Bread Designs sets called Francis of Assisi.  I made a cardbase using Spellbinders™ Romantic Rectangles.  On top of the card base I mounted an additional panel and added Spellbinders™ Floral Ovals.  I thought that the beautiful butterfly from Spellbinders™ Wings of Hope fit perfectly so I stencilled it using my chalk ink and mounted it on double layers of foam tape.  Lastly I stamped my sentiment and mounted on the label from Spellbinders™ Office Supplies.   I love the profile of the small card and it was timely because I just got back from San Antonio last evening.  Thanks to my friends at Delta, they felt I needed to stay in Atlanta for an extra day . . . it's so good to be home :-)
Special Announcement
We have decided to extend our Customer Favorites Contest!  You now have until April 7th to add your submission to the Customer Favorites Contest for a chance to win a free set and the chance to be a guest designer for the release of "your" set!  So leave us your one choice of favorite short Scripture, spiritual quote or spiritual sentiment, and your submission might be in the next ODBD Customer Favorites Sets!
Details are HERE and previously used Scripture already in ODBD sets are HERE.

Thanks so much for visiting… Now from here you'll hop to Dawn Lusk's blog.