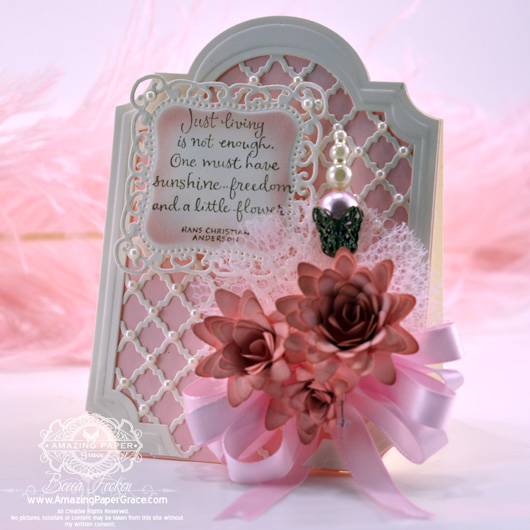 Hello there blog friends!  Can you take one more duo tone card?  I'm telling you, I was elbow deep in the cream paper and I thought I'd finish what I started.   This is another one I've had in the back of my mind for a while and it was good to sit down and try it out.  It's a shaped card made using Spellbinders™ Labels Twenty Eight.   I simply cut two and glued them together – the cool thing is that I scored across the top dome only on the back leg of the card, folded the dome forward and placed adhesive on it.  For the textured background I used Spellbinders™ Fancy Lattice and topped with another framed cutout of Labels Twenty Eight.  My sentiment fit perfectly on Spellbinders™ Decorative Labels One.    I finished up with some flowers using Spellbinders™ Spiral Blossoms Three.   It's a smaller card since it's a shaped card, but I found that everything fit comfortably.
I couldn't finish up without a matching bookmark!!  For this one I kept the bookmark simple and added the second smallest die template from Spellbinders Decorative Labels One as a fob.  On the fob I was able to fit a small sentiment and two matching flowers!!  

Hugs to you all, see you soon!!