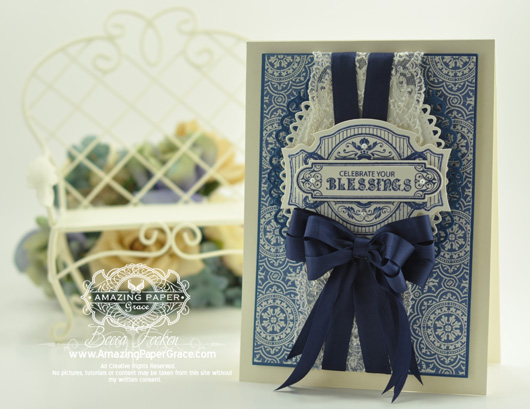 Almost there :-)  Lol, I never realized how long three days would seem when this kicked off, but thankfully I'll be able to share with you tomorrow.   In the meantime to recap, I have a secret to share with you on the morning of August 15th and to make it fun I'm offering blog candy of a $35.00 gift card that will go to a random commenter from 8/12, 8/13 and 8/14. You can leave one comment on each of these posts and the winner will be announced on Wednesday as well.  A slight change today, instead of it being about me, let's make it about you – leave a comment saying what gift you give or receive from crafting. Mine is the fabulous friendships I've made far and wide (received), and the awesome power of kind, faith-filled words (give).  There are many more but I'll keep it short because I'd much rather read what you all have to say :-)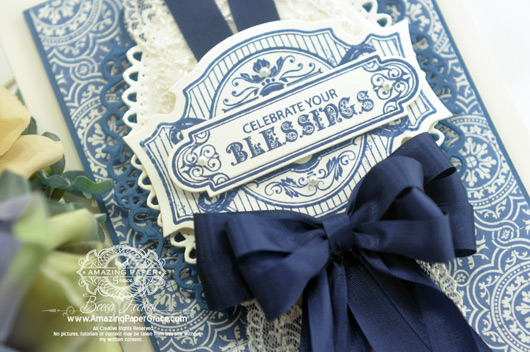 I even have a card to share today :-)  I've had this piece of designer paper from Yellow Bicycle on my desk for a while and I made myself use it!  It's not often that I deal with such a bold blue, navy blue and I really had to hunt for the right in color.  Here's how I stacked my layers.  On the bottom I started out with Spellbinders™ Floral Ovals (I cut the oval in half and spread it so that I could have a bigger size base); my next layer is Spellbinders™ Grand Decorative Ovals One.  For my next layer I used a matching JustRite Custom Die/Matching Stamp combination with JustRite Antique Labels One and the matching stamp set Royal Antique Labels One.  This combination fit perfectly so I selected another JustRite Custom Die Set/Stamp Combination of Antique Tags One Dies and the sentiment from Antique Autumn Tags One stamp set.   Typically I would do this combination of dies in a horizontal layout card but then thought by turning the last set, it would add some visual interest.  
It's been a hoot hanging out the last couple of days!  Some of the comments were sooo funny.  Like I said, you all have taught me a thing or two about dreaming big!!  I have lots of design team releases this month so hang on, I love playing around with new things.   Thanks for stopping by, and I hope to see you tomorrow!!