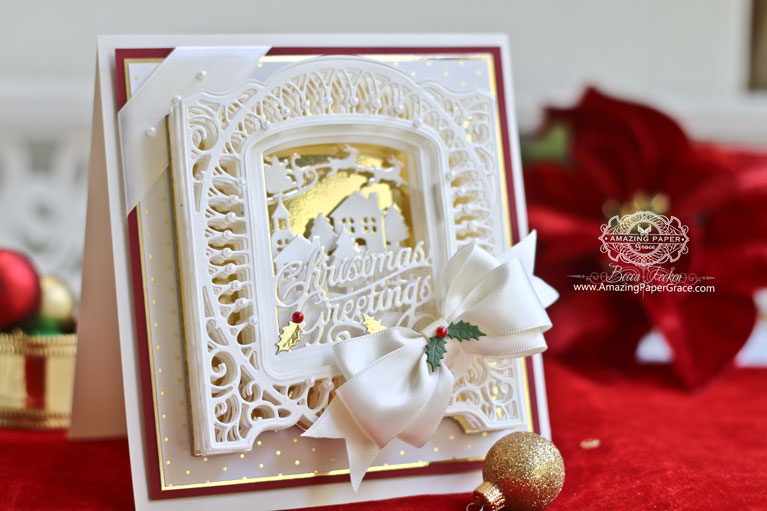 Oh my goodness, when I tell you that I've been working on something in the background, have I ever!!  This has been more than a year in the making and today is the day!  Today is the day where I launch my new Die of the Month Club!!  Eeeeeek!!  I'm dealing with a lot of real-life stuff trying to find my way back from my house being a casualty in Hurricane Michael.  This is a breath of fresh air!  It's just what I needed to genuinely put a smile on my face today.   So let me introduce you to a new program over at Spellbinders – The Amazing Paper Grace Die of the Month Club!
We design and test dies for a long time before they get into your hands.  When brainstorming my first design, I thought how lovely to make something fresh for those new to my tribe.  BUT, then again, how can I make something that will work with what's already in your stash?  Well, I've gotten emails begging for more templates to work with 3D Vignettes — and even more begging for something Christmas.  This is my second Kit Club and if I had a dime for how many emails I've received to bring it back, I'd have some change!  Your wish, is my command, it's back and it's within your budget!!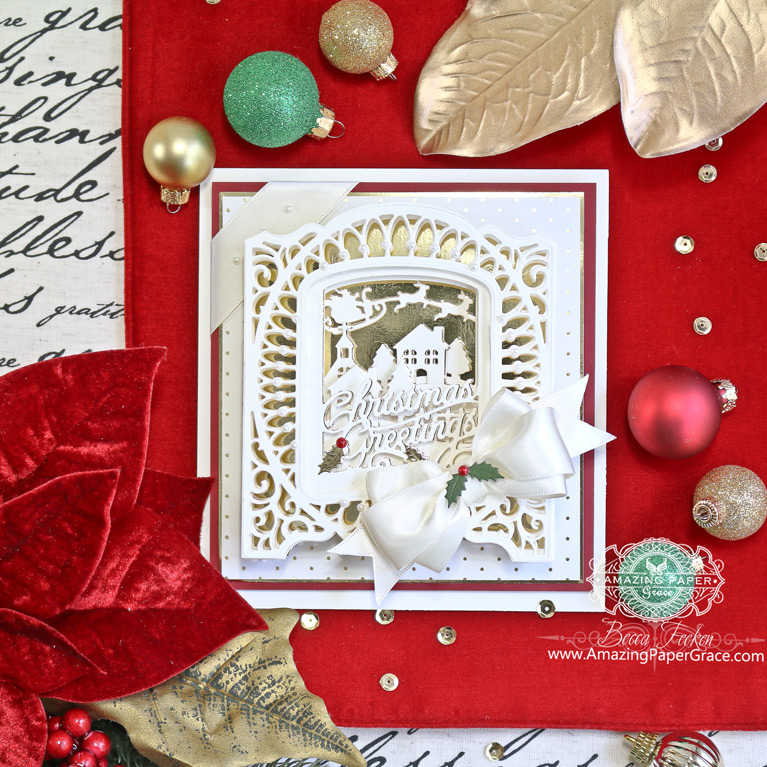 My first die of the month is called – the Christmas Village Vignette Frame Die.  This design is essentially a "faux" Vignette design.  On its own, it's a frame — however, it will fit into the 3D Vignettes template if you already have it.  These dies are limited and available until the supply runs out.  My creative team and I are having a Blog Hop on Sunday, November 4th at 9:00 am Central Time.  We'd love to share some of our inspiration with you and explain why a Die of the Month Club.  I also want to share my process for curating these special, exclusive dies.
Amazing Paper Grace Die of the Month Club – First Look
In the meantime wanna see what I created right out of the box?  There is a whole post here chock full of details, showing three cards I made as well as a video tutorial I filmed to lead you through your first card —-> CLICK for INSPIRATION!!
I have a picture or two to share here, but you'll get the full breadth of this lovely die over on the Spellbinders Blog.  Please be sure to leave a comment if you pop over.  We're eager to hear if we've earned your stamp of approval on the first die in this program :-)
Have questions about the program – these FAQ's will have you headed in the right direction!


Thank you for stopping by today.  I'm still a vagabond from the hurricane but this is a great joy to me and I didn't want to postpone it.  That's what life is about, isn't it — grabbing a smile, a good feeling, or creating when you can?  Please do me a favor — I design from the heart and wholeheartedly listen to what you say.   Because of that, please be sure to leave some feedback here or on the Spellbinders Blog.  Also when you join the Club, we rely on your feedback to make sure we're producing the right kinds of dies, so please be sure to leave a review!
Looking forward to your posts on Instagram with #AmazingPaperGraceClubKit
You can also upload your creations directly to this page on the Spellbinders Website ——> HERE