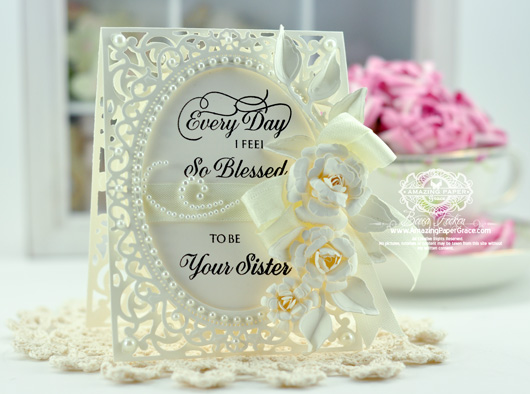 Okay, I have to gush a little bit – I have two new stamp designs that are coming to JustRite Papercrafts this month, and I can give you a little peek now :-)  It's been a little while for me since I've had new stamps and with these I continued in the style of my other stamps so that if you are a collector, there's a little bit of matching going on.  Quite a few people wrote to me that they wanted another set like Just The Right Words, so now you'll haveMix and Match Sentiments.  It's a set that's designed to fit in core of your stash.  You should be able to go to it and stamp out a heartfelt sentiment for family and friends.  The second set is a frame designed to use with journal covers, but what the heck – go ahead and use it with Mix and Match Sentiments or just the right words, if you want to.   You'll notice that Filigree Journal Covers matches the flourished elements of my earlier released stamps sets :-)  The team at JustRite will be sharing new inspiration from all the new sets beginning May 5th –  May 10th;  I'll be showing you more ways to use my new sets on May 10th.
Let me tell you a little bit more about Mix and Match Sentiments.  It's what I call a stackable sentiment.  If you pick something from the top of the set in script then follow with one of the sentiments in small caps – they will stack on your clear stamp mount nicely.  Follow up then with one of the "so" words and another line in small caps.  Then finish up with one of the "your" words.    Or better yet, do your own thing, your sentiment can be short and sweet or stacked tall :-)
Just a note – JustRite is having a Spring Fling Sale that lasts until May 12th.  In the meantime, thanks so much for stopping by today.  The Heat Pump installers are here today, so I'm a happy camper and tomorrow I'll be cool as a cucumber.  Hope all is well in your world too!!