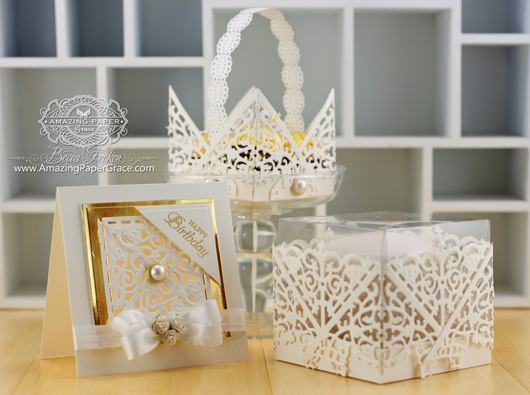 Hugs Blog Friends!  I should probably explain that when I sit down to create a new tutorial, I make lots of samples and try things many different ways.  Recently I shared a tutorial on the Filigree Corners Basket but I experimented with a couple of different shapes and configurations and this was one I really liked.  In truth, I'll probably use the smaller version more than the larger version so I definitely wanted to share it with you.  It's much like the previous tutorial but with a couple of different option twists :-)  Lots of you encouraged me to give you more card making and project ideas with Filigree Corner Dies and I'm happy to oblige!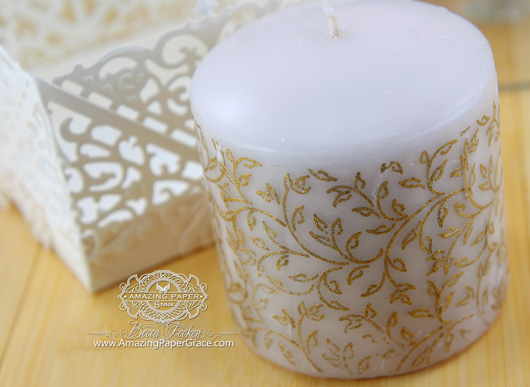 This is what I put inside the box – a decorated candle.   I have to make an admission here, this is the first time I've tried one of these candles.   I've seen people make these candles and I blundered through this blindly and think that ultimately I didn't do it right although it turned out okay for me.  I used Versamark Ink  and gold embossing powder to stamp Filigree Leaves onto white tissue paper.  The tissue paper is then heated with heat gun so that it melt embeds ever so slightly into the candle.  I freaked out when wondered if my embossing would stay intact and I'm happy to say that it did.  Google 'Stamped Candle' if you'd like to try it – the right way :-)
To save the tutorial simply right click and save image as – it is one large picture.  Or, if you participate in Pinterest, I have the tutorial saved to my tutorial page HERE so you can easily repin :-).
You all are the best!!  Thanks for visiting, I so appreciate you!!