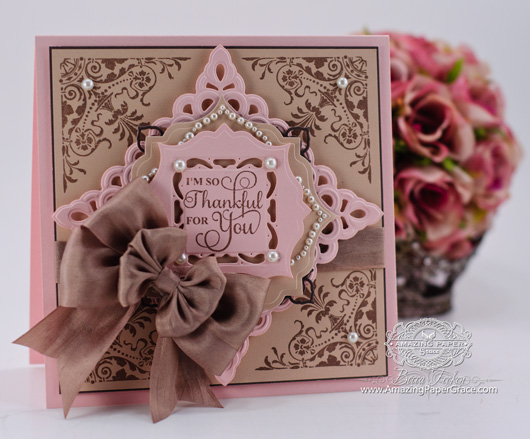 Good morning blog friends, today is the fourth day of new releases for JustRite Papercraft and today I stamped with a new set called Ornate Corners and my sentiment is from Autumn Vintage Labels Three.  Now yesterday I mistakenly called my post Ornate Corners when what I meant was Elegant Corners.  There's a difference….the corners from yesterday were an already constructed background while today each set of corners and embellishments is separate.   I picked a very victorian corner from the set to grace the four points of my card.  Along with the stamp I layered a couple of die templates – Spellbinders Asian Motifs, Spellbinders Captivating Squares, Spellbinders Labels Thirty Two and Spellbinders Gold Squares One.  It's been a while since I've done any square cards and they seem to fit the bill this week :-)
Here's your Step By Step Recap of die cuts and layers, from the bottom up:  Start out with a Card Base  (6″ x 6″) , foam tape, dark brown matting layer cut to 5-5/8″ x 5-5/8″, light brown matting layer cut to 5-1/2″ x 5-1/2″,  foam tape, die cut layer in pink using Asian Motifs, foam tape, die cut layer in dark brown using Captivating Squares, foam tape, die cut layer in light brown using Labels Thirty Two, foam tape, die cut layer in pink using Labels Thirty Two and Gold Squares One. Add bow and pearls.
Many of the other ladies on the JustRite Design Team have samples to show today as well:
JustRite Inspiration • Eva Dobilas • Becca Feeken • Darsie Bruno • Kathy Jones
Angela Barkhouse • Marisa Job • Barb Schram • Heidi Blankenship • Michele Kovack
A sweet thanks for stopping by.  Your comments inspire me to create, so thank you for sharing your sweet words of encouragement.  I hope you all have been finding some joy in your crafting – I just know that whatever you're making, it's beautiful.  I'll see you soon!