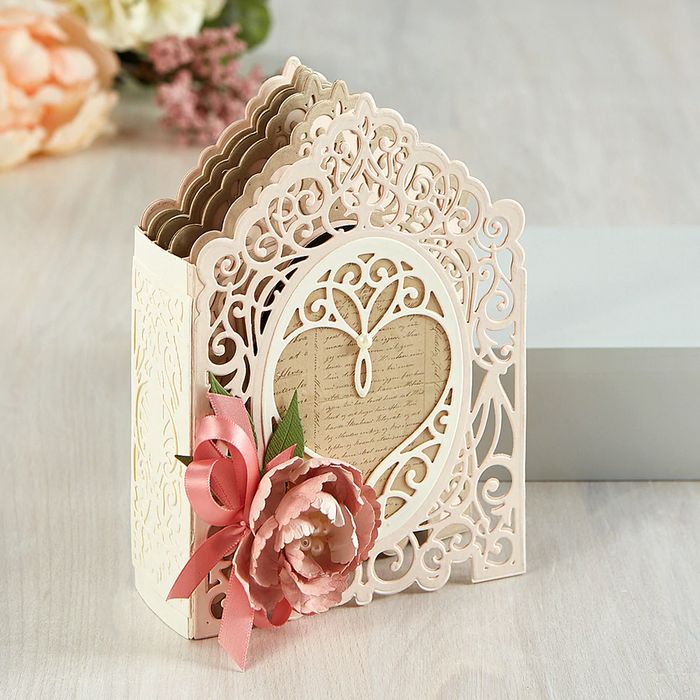 Okay, Santa says now that you have taken care of everyone else, purchased all the gifts and have all the holiday meals planned out – now you have to take care of yourself!  I just might have something that's right up your alley.  Enter 3D Vignettes Mini-Albums.  Yes! And yes, these elements work to make 3D Vignette Cards and 3D Vignette mini-albums can be made with the other card fronts you have already purchased.
Years ago I had a kit club that featured full instructions on how to make some very unique keepsake items.  Not a week that goes by that someone doesn't ask if I could go back to doing "that" kind of kit.  Well, your wish is my command.  I have a release coming in January but as a fun kick-off we're offering a full Kit that includes four of the collection die sets as an exclusive pre-release option with limited availability.  We all fell in love with this grouping of dies from the first sample made.  So much so, that Spellbinders decided to put it into an early pre-release kit.
Mini-Album Kit Details:
You get four dies from the 3D Vignettes Mini-Album collection.   You get all of the supplies like paper, ribbon and extra die cuts in addition to full step by step instructions and access to a video tutorial.  Out of the box, you'll actually be able to make a mini album.  If you'd like to see more – here is an unboxing so that you can see exactly what you get.
Grab it now at a reduced price before full release in January when the regularly priced individual die sets hit the Spellbinders website.  This mini-album is timeless but it's coming to you just in time for you to make it for Valentine's Day.  This set is also perfect for Anniversaries :-)  The dies will make cards and mini-albums all year round.  They also mix and match with other 3D Vignettes in your stash.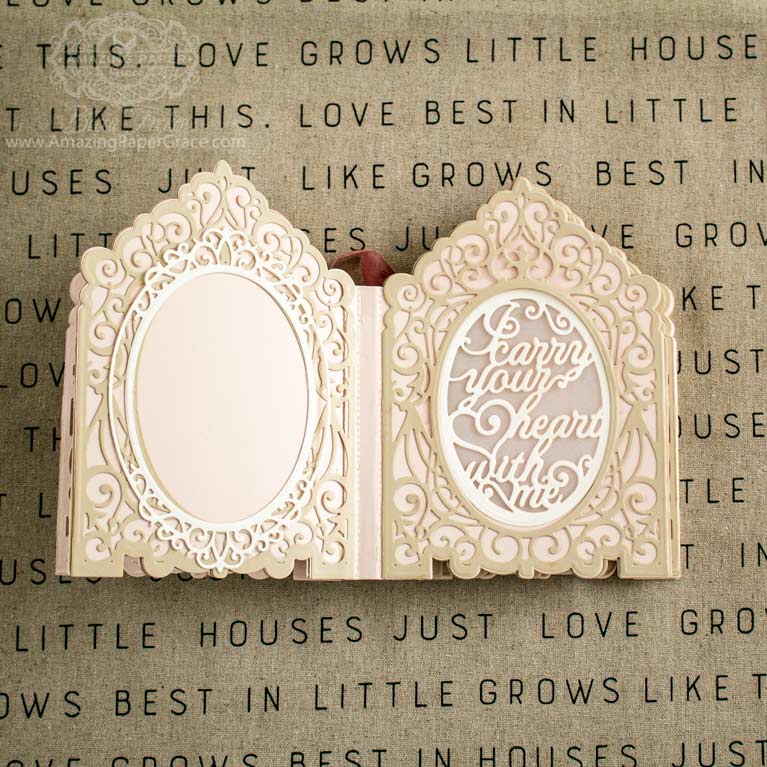 |I think I'm tickled that includes a step by step instruction guide.  It takes you through creating a 3D Vignette Mini-Album that has the sentiment "I carry your heart with me.  This is a dream project for me.
There's a step by step instruction in the box but for visual learners – here's the video tutorial.  I promise you can do this!
We actually made books and mini-albums two years ago when 3D Vignettes was introduced and you all like them so much that we set to work on the real deal.  The universal spine makes it all work.  There's more to come with 3D Vignette mini-albums in the next month, especially with other dies in the collection and ways to use them.  I don't think of myself as scrapbooker but this is so small and easily managed – it's like a many paged card.  Consider yourself officially encouraged!!


Thanks as always for letting me share my creative dreams.  This is the stuff that I'm doing in the background.  It is my therapy and keeps me gratefully busy.  I adore you all for obliging me and hope you'll continue to peek in from time to time.