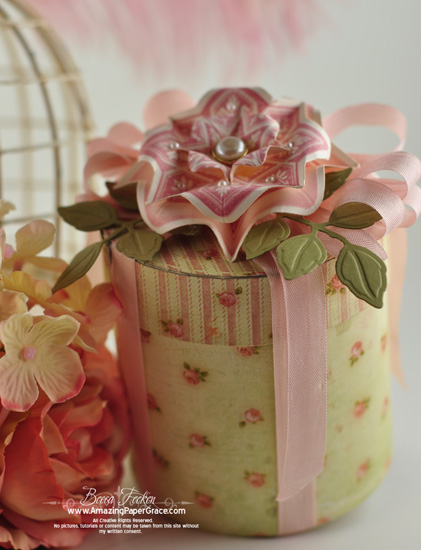 Oh, sweet blog friends, if I had it to do all over again, this round box would be a square box. Why would I wish such a thing? Well, what I thought would be easy was much easier said than done.   I thought perhaps I would put up a tutorial for the box, but by the time I made it twice, I wondered if perhaps I should watch a tutorial, rather than make one!  Alas, I think I have a little bit of perfecting to do before I put this out again.   At any rate, I wanted to make a flower using the new JustRite (made by Spellbinders) Nested Medallion Labels die with the matching set called Starburst Medallions.  I envisioned a box to set it on but of course spent at least an hour looking for the right paper.  Then it hit me, why not alter my design paper by over stamping with the new released Ticking Stripe Background Stamp from JustRite Stampers.  Well, it gave me just the amount of pattern contrast I was looking for and as a bonus, it matches the original pattern paper (wink).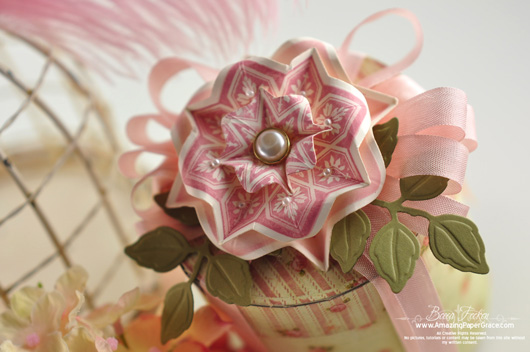 For the flower I cut and embossed the #5, #4 and #2 dies from the Nested Medallion Labels die and I used the same stamp from Starburst Medallion Labels for each layer.    The flower is backed by a figure eight loops bow made on The Peg Bow Maker with 5 wraps on the 4 inch width setting.   For the rest of the embellishment I added Spellbinders™ Foliage die for those sweet small leaves.  The box is made using Spellbinders™ Standard Circles LG #7 (this defines the shape of the box) and Spellbinders™ Grand Circles.

From double paper arranged on the fold, I stamped another medallion and cut out the center star for a tag.  I hung it from the bottom of the flower using pink linen thread. 
I had so many left over medallions, that I stamped while working out the logistics of the flower.  So, rather than toss them . . .   I folded over and popped up one layer for an extremely simple enclosure card…. 
Check out what the rest of the Design Team did with this set:
JustRite Inspiration
Becca Feeken (you're here)
Debbie Olson
Michele Kovack
Kellie Fortin
Sankari Wegman
Kathy Jones
Heidi Blankenship
Eva Dobilas
Kazan Clark
Angela Barkhouse
I'll try to get a tutorial up in the near future, if you're curious about the flower.  Have a fabulous day and I'll see you tomorrow!!