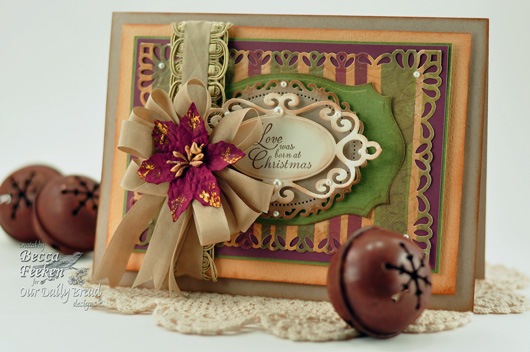 Sweet blog friends, I hope you are primed to have a wonderful Thanksgiving.  It is hard to keep thoughts from settling on all the things there are to be grateful for – it's uplifting to carry those same thoughts throughout the year.  Please know how grateful I am for each of you.  Just recently I was recapping the past couple of years to someone I just met and my blog friends kept rising to the top of the list!!  In the meantime, as we sashay through the holiday season, it was very apparent to me that I don't have nearly enough hand made cards in my Christmas Card stash.  One card at a time is so managable, so I whittled away at one while I watched my taping of The Voice.  I picked a sweet sentiment from Our Daily Bread Designs  from the Chickadee Ornament set.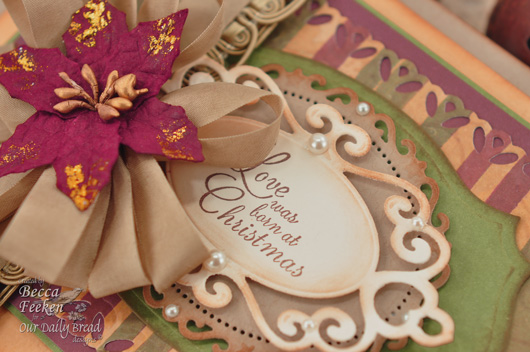 I was looking for darker tones so once the paper was set, I looked to my ribbon.  So often you all ask the color I've used and this time I remember because it's one of my favorite vintage colors of Hug Snug called Leather Tan.  I paired it up with Spellbinders™ Resplendent Rectangles and Spellbinders™ Labels Twenty Five on top of which I stacked Spellbinders™ Floral Ovals and finished up with Spellbinders™  Fancy Tags Two.   Scrounging through the dollar bin at Michael's yielded the dark red poinsettia.    They say that 'the journey of a thousand miles begins with one step" so my slow walk forward helps me add a simple card to my stash.  I am indeed realizing that if I wait too long – Christmas will be over and done with ;-).  Even though I may not have time to pull everything out, I bit off a small chunk and got done what I could – what about you.  Is there anything that holds you back from crafting?  I hope the coming days find you taking care of the moments that bring you a small victory of accomplishment!
SUPPLIES I USED
Stamps: Our Daily Bread Designs – Chickadee Ornament
Paper: Kraft Paper, Bazzill, Coredinations, K & Co.
Ink: Amuse French Roast, Brushed Corduroy Distress Ink
Accessories: Spellbinders™ Resplendent Rectangles, Spellbinders™ Labels Twenty Five, Spellbinders™ Floral Ovals, Spellbinders™  Fancy Tags Two, Hug Snug Seam Binding, Recollections Pearls, Michael's Poinsettia, Trim
In the meantime, eat up, enjoy family, and give thanks!  In the mean time, I'm sending you a big 'ole hug!!