Sweet blog friends, yesterday I made a birthday card for little girls and so wanted to make a matching one for little boys.  I rarely make masculine cards because I love to use my pearls and lace and bows :-)  As of late, my answer to that dilemma is to just go with the flow, and be me – pearls, and bows and all.  So I'm ready in case any of the little fellas I know have a birthday.  I suspect that someone that age is just thrilled to get a card and doesn't think what's on it long enough to object, right?  This month Our Daily Bread Designs  came up with two sets, one for Little Girs, this one is called Little Boys.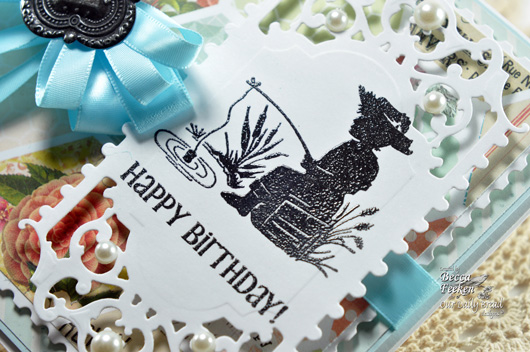 For this card, I reached out to use one the new Spellbinders™ On The Edge to put the tiny border around the edge of my top layer.  I then used the middle element from Spellbinders™ Enchanted Labels to stamp the little boy and the sentiment.  Lastly I put flourishes in the two leftmost corners from Spellbinders™ Marvelous Squares.  Yep, I finished off with pearls and a bow ;-)
As much as I love to tailor my cards to the recipient – there's nothing like having a card at the ready!!