Greetings! I have a golden project to share with you today. I love using gold and cream and have to ration it so that I don't do too many cards a month with those two colors. I don't think I've done one in a while, so this is my fix. I'm using a stamp from JustRite Stampers that surprisingly I've never used before, Christmas Treasures. This card (perhaps minus the pearls) falls squarely in the category that I'd consider for assembly line and creating multiples.
From the bottom of my medallion I layered Spellbinders Lacey Circles #4 then added cut my circular sentiment from Spellbinders Class Circles SM #6. My gold rimmed layer is cut from Spellbinders Standard Circles SM #5. Then finally my main picture is cut from Spellbinders Standard Circles LG #3. I tried my image embossed with just black but it was too stark while the trial I embossed with just gold was too light. So, I combined the best of both worlds, I embossed the top with gold and the bottom with black and you can kind of see in the middle where they blend. Yea, another card to add to my pile – I'm well on my way.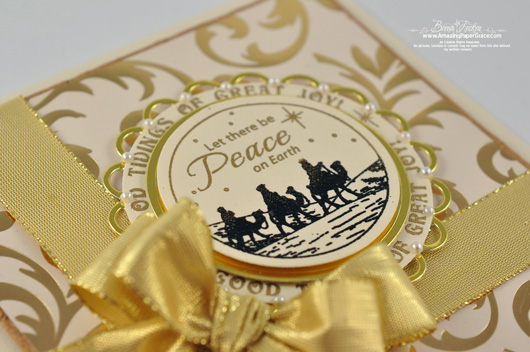 Card Recipe:

Stamps: JustRite Stampers – Christmas Treasures
Paper: The Paper Company, Bazzill
Ink: Versamark with Gold and Black embossing powder
Accessories: Spellbinders Lacey Squares, Spellbinders Standard Circles LG, Spellbinders Standard Circles SM, ribbon, pearls
Thank you so much for joining us during the JustRite Stampers Christmas Blog Hop yesterday and all the sweet comments on my work. The feedback helps me consider the types of things my readership likes to see. Mwah!