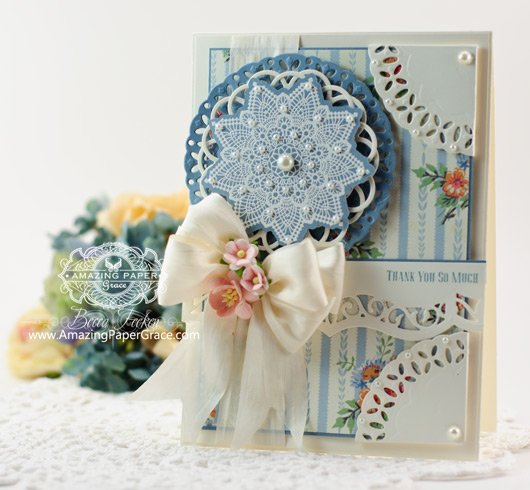 Hi there blog friends!  I've been stamping and creating away the past week or so and have a card to share with new doily stamps by JustRite Papercraft – Doily One Cling Stamps.  This one is just perfect for a pearl placer like me.  I used SVG Doily One Digital Cut File Download because you know I'm just no good at fussy cutting :-)  My cut out doily was layered onto  Spellbinders Blossom Tags and Accents and then layered onto Spellbinders Delightful Circles which is such a nice doily die.
I used Spellbinders A2 Bracket Borders One as a cross piece and a place to stamp the sentiment.  I also used 1/4 cut pieces of Delightful Circles to make the corner pieces.  My card is 5-1/2″ x 7-1/2″   Yep, it was a fun card day for me.
Here are the rest of the design team members that have designs to share – hope you can take a second to visit:
JustRite Inspiration • Debbie Olson • Becca Feeken (you are here) • Michele Kovack • Darsie Bruno • Margie Higuchi • Kazan Clark • Heidi Blankenship • Eva Dobilas • Sheri Holt • Kristi Schurr • Angela Barkhouse • Kathy Jones • Marisa Job
My thoughts go out to all those in the midwest and south regions that were affected by tornadoes.  Bless you and know you'll be in my prayers.