Hi there friends, today is Day Three of JustRite Papercraft's June 2014 release.  Today there are new stamp sets to see and I have a new die releasing.  I'm so excited about the Vintage Filigree Layer Die – it's a medium sized die – just right to layer on top of most labels and fabulous to layer under most sentiment sized dies for a frilly layer (I'm showing you examples of both of these today).   For my first card, I'm layering it underneath a small sentiment sized element.   I  knew it would work fabulously inside the oval opening of Spellbinders A2 Filigree Delight, not too big and not too small — fitting just between the oval the the smallest A2 Filigree element.  When I designed it I was trying to think of something to add to the dies we already have in our stashes, to further embellish :-)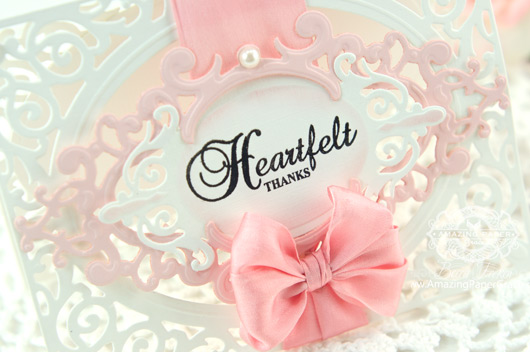 For my card I cut both layers of A2 Filigree Delight at the same time.  In addition, I cut a large oval to fill the oval hole in the back side of the card.  On the front side I simply cut Vintage Filigree Layers and added the smallest element from A2 Filigree Delight – you can see from the picture that it fits into dips on both edges of that element.  The sentiment comes from Rose Bouquet Vintage Labels Seven.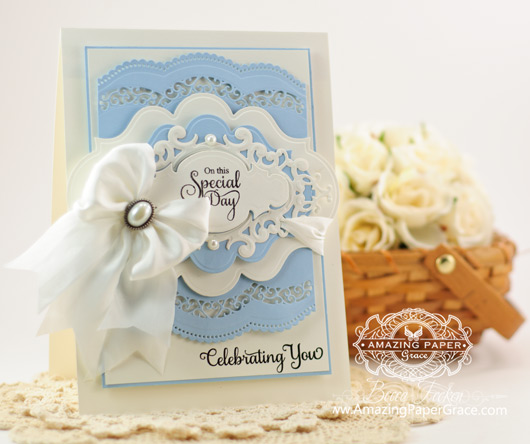 For my second card I'm showing you how to add Vintage Filigree on top of a plain labels die to give it some fun embellishment.   I double cut Spellbinders A2 Scalloped Borders One and Spellbinders A2 Scalloped Border Two on the top and bottom of a panel.  The panel is layered with Spellbinders Labels Twenty and then I added the JustRite Vintage Filigree Layer Die.  The sentiments are from JustRite Celebrations Labels One
The JustRite Designers have made some lovely creations – be sure to peek in and see what they made.
Tomorrow I have a new die and a new stamp set . . . I hope you'll come and see :-)