Greetings and welcome to the JustRite Mega March Blog Hop. I have a small project to share with you today using the Stitched with Love Set (my very favorite JustRite set)! I'm always looking for gift items so I decided to pull together some needle cases as a gift item. So you're probably asking what a needle case is. Well, it's a little wallet type of accessory that you can put pins, needles and thread in. Since I carry my cardmaking stuff around with me to different rooms and sometimes when I'm on the run . . . I thought this would be nice to have along to thread buttons.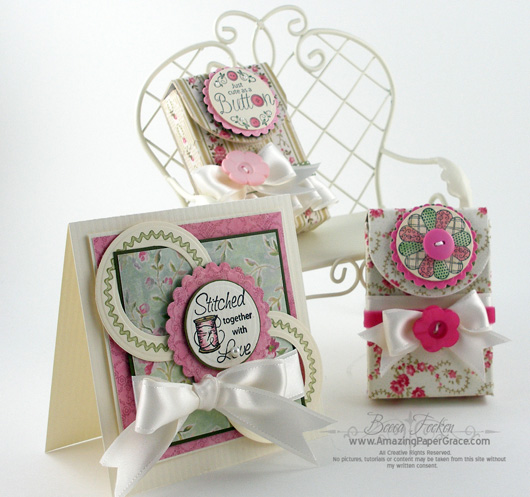 I made several trial cases before I got the gist of what I wanted to do. I have a Sizzix Card Box Die that I thought would be perfect to hold the needle case, so I designed both pieces to match and the case fits right inside :-) Both the Card Box and the Needle case are covered with fabric then embellished. For the inside of the needle case I cut felt with Spellbinders Long Scalloped Rectangles SM then sewed them end to end and secured them inside the needle case.

Here's a picture that shows the boxes and the inside of one needle case and the outside of the other.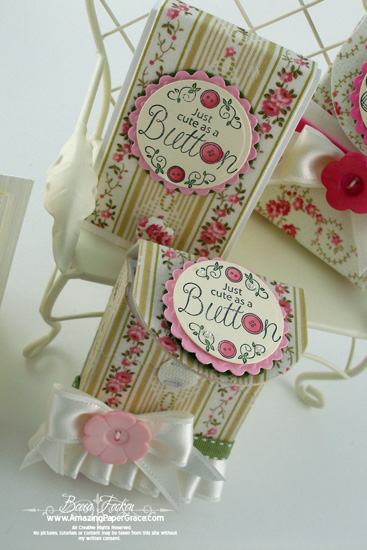 Here's the outside of the second needle case and box.

Card Recipe:

Stamps: JustRite – Stitched with Love Set – Borders and Centers
Paper: K & Company, The Paper Company , Bazzill
Ink: Memento – Tuxedo Black, Versafine – Onyx Black and Clear Embossing Powder
Accessories: Spellbinders Long Scalloped Rectangles SM, Spellbinders Classic Circles SM, Spellbinders Scalloped Circles SM, Sizzix Card Box Die, Felt, Ribbon, Buttons, Fabric, Accessories to fill Needle Case
Wow, that was a lot to digest, now I have details for you for the Mega Blog Hop. Remember if you get lost along the way, go back to the JustRite Blog where you'll find a list of the designers!
Here's all the juicy details on what you need to know about the Blog Hop today!
25 designers, FIVE shopping sprees each day. No one knows where the prizes will be! Each day of the hop JustRite will have five Mystery Blog Candy Prizes hidden along the hop with a total retail value of $600. JustRite will randomly select five mystery blogs each day of the hop and randomly allocate each of the shopping sprees. For your chance to win, simply leave a little love (a comment) on each designer's blog including the JustRite blog. The more designers you leave comments with, the better your chances of winning. Each day's comments will remain open for three days. A winner from each of the mystery blogs' comments will be randomly chosen using Random.org. Consult the listing of designers at the JustRite blog each day (each day's designers will be different) and start out on your way! Beginning Friday, March 26, summaries of all the winners will be posted on the JustRite blog. Good luck to everyone and enjoy all the JustRite eye candy along the hop!
Today during the JustRite Mega March Blog Hop (Day One) JustRite and its sponsors will be giving away the following five prizes:
· $200 JustRite Shopping Spree
· $100 Spellbinders Shopping Spree
· $100 Stampers Dream Shopping Spree, and
· Two additional $100 JustRite Shopping Sprees!
Blog comments for Day One will be open until Thursday at 6pm EST. On Friday, JustRite will announce on their blog which five blogs have the mystery candy for Day One. You will need to go to the JustRite blog to determine where you need to go to find out if you are one of the five lucky winners.
JustRite Inspiration Blog
Becca Feeken
Tosha Leyendekker
Kazan Clark
Laurie Schmidlin
Kellie Fortin
Amy Sheffer
Jerri Jimenez
Denise Marzec
Michelle Rodgers
Stephanie Kraft
Sally Lynn MacDonald
Cindy Lawrence
Jenyfur Pohl
Silke Ledlow
Carolyn King
Dawn Easton
Holly Simoni
Julie Overby
Karen Maldonado
Colleen Schaan
Kimberly Crawford
Karen Taylor
Maren Benedict
Eli Harlan
Linda Beeson
Thanks so much for stopping by!