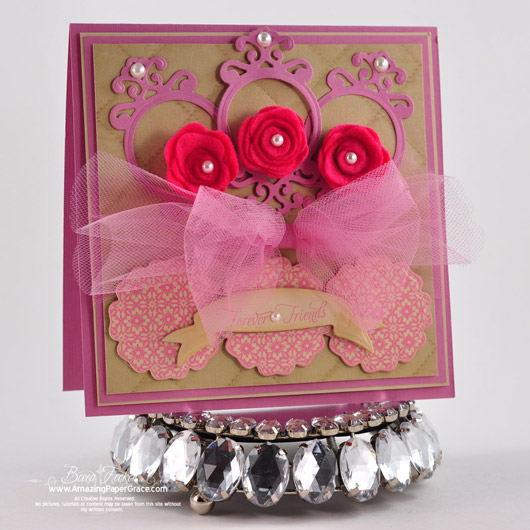 Hi there.  It's busy times in stampland because of all the wonderful releases!!  This is my second card today and again I'm thrilled to show stamps that match the new dies that Spellbinders is currently releasing!!  The set that I'm sharing today from JustRite Stampers is called Friendship Blooms and it's the newest offering of the JustRite Cling collection of stamps.   I've wanted for so long to dabble in those dimensional roses and I knew that Spellbinders Blossoms Three would handle the job and boy howdy did it!  I have all the Spellbinders Blossom sets and little did I know that to get this rolled flower all you have to do is cut a spiral and roll it up!!  How cute and delicate are they?  I highlighted them by framing each with one of my favorite pieces from Spellbinders Parisian Accents (lol, I have feeling you'll see this piece a lot).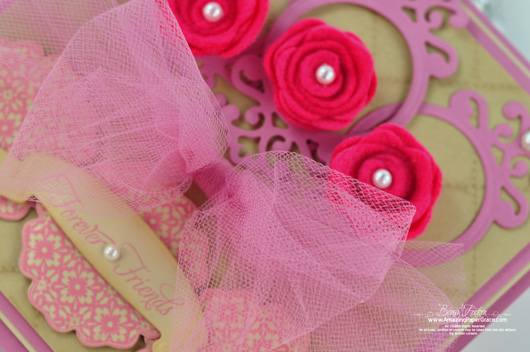 I used my cut outs of the flower to build a border along the bottom of my card.  I simply stamped then centered my die template over the filigree pattern and cut; now I have a beautifully patterned die cut in the ink to match the rest of my card.  To top of off I added the sentiment on another of my new favorites called Spellbinders Ribbon Banners.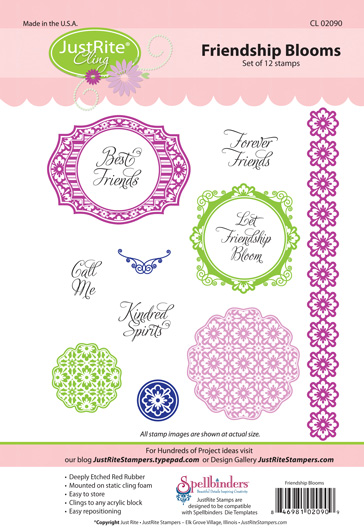 Just as a matter of note, the new JustRite Cling stamps that match Spellbinders die templates are also designed to work with all previous JustRite Releases in the ribbed collection.  In other words, your other centers will fit in the centers of these sets!!

SUPPLIES I USED
Stamps: JustRite Stampers – Friendship Blooms
Paper: Bazzill, K&Company
Ink: Studio G – Pink
Accessories: Spellbinders Blossoms Three, Spellbinders Parisian Accents, Spellbinders Ribbon Banners, Tulle, Pearls. felt
Before I share my tutorial, here are the other JustRite Designers that are have goodies to show you with the new Friendship Blossoms set.
Thanks so much for stopping by today.  I'll be back soon with more goodies!