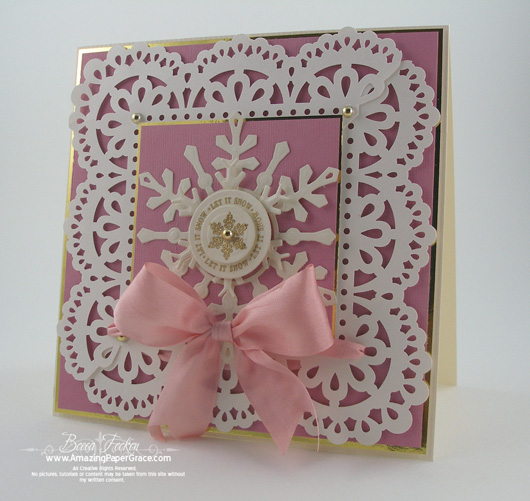 Greetings friends!! All that work with ornaments earlier this week sure got me all in the mood for Christmas! Sigh, walking through Hobby Lobby just makes me smile from ear to ear 'cause they already have the Christmas stuff out. I know, I know – why oh why do stores start putting holiday stuff out in June and July? Well, because they see me coming!! It used to get me frustrated but I'm amazed that having the stuff there gets me in the giving mood and is an ever present reminder of the birth of Jesus. Last year we unexpectedly went out of town in November and didn't return home until January, missing Christmas at home – although the spirit of Christmas was certainly with us. I'm savoring plans for our giving this year. I'm sure I'll start early, I have plenty of supplies that I didn't use last year, ahem…you've been warned – it'll be knee deep here before you know it. Which leads me into what I'm showing today . . .

We're having a JustRite Christmas in July and we're celebrating with a Blog Hop!! JustRite Stampers has released new Christmas sets HERE and I snagged one to use in my project today from the Holiday Cheer Borders and Centers Set. These little centers fit perfectly in the new Spellbinders 2010 Snowflake Pendants so I wanted to show how well they fit. For my card I used some frilly Anna Griffin scrapbook paper that I cut down and mitered so that I could have a border. Then I cut my Spellbinders™ Snowflake Pendant as a frame and popped up my gold snowflake along with a layer from Spellbinders™ Snowflake Wonder , two layers from Spellbinders™ Standard Circles LG. As a gift to go along with the card, an ornament of course. It can be flattened and included in the envelope with instructions to the recipient to fold it out and hang it on the tree!! The ornament is made differently from the one I made HERE. This one is simply four snowflake pendants (with a circle frame cut from the center) folded in the center and glued together – how easy is that?!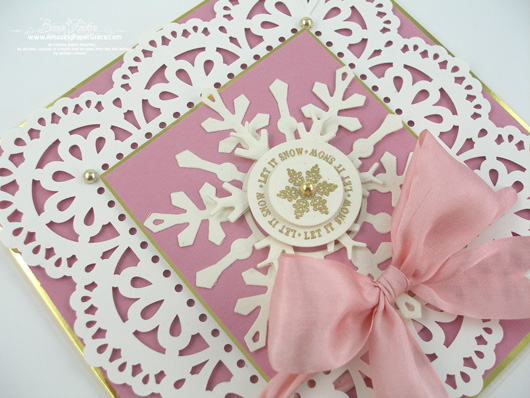 Here is the order for the Blog Hop, so be sure to jump around to each of the designers to see more Christmas in July – we'll have you in the mood too – I promise ;-)
JustRite Inspiration Blog
Becca Feeken
Debbie Olson
Stephanie Kraft
Sharon Harnist
Kazan Clark
Kellie Fortin
Heidi Blankenship
Barb Schram
Kathy Jones
Michele Kovack
Angela Barkhouse
Sankari Wegman
Project Recipe:

Stamps: JustRite Stampers – Holiday Cheer Borders and Centers Set
Paper: Anna Griffin, The Paper Company, Bazzill, Grafix Gold Foil Paper
Ink: Versamark and Gold Embossing Powder
Accessories: Spellbinders™ 2010 Snowflake Pendants, Spellbinders™ Snowflake Wonder, Spellbinders™ Standard Circles SM, EK Success 1 1/4" round punch, pearls, swarovski crystal, silk May Arts Ribbon

Thanks so much for stopping in to see me!!!
Please don't forget that you have until 11:59pm tonight to enter to win the New Spellbinders die templates I revealed yesterday – all the information is HERE. Here is the list of fabulous designers who are revealing new templates.
July 13
* Julie Overby
* Debbie Olson
July 14
* Judy Hayes
* Latisha Yoast
July 15
* A.J. Otto
* Kimberly Crawford
July 16
* Becca Feeken
* Linda Duke
July 17
* Sherry Cheever
* Deborah Young
July 18
* Gina Hanson
* Ashley Cannon Newell
July 19
* Mona Pendleton
* Heidi Blankenship
July 20
* Kerilee Sereika
* Kazan Clark