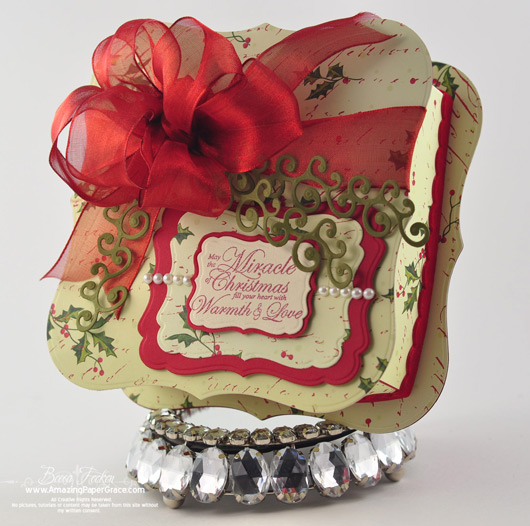 Welcome to JustRite Stampers' newest Wednesday feature, 12 Weeks of Christmas Blog Hops #3! Every Wednesday up until Thanksgiving some of your favorite designers will be joining some of the JustRite Design Team for a series of Christmas blog hops, showcasing JustRite's entire Christmas Collection of stamps! So mark your calendars for Wednesdays at 9am Central for great Christmas gift, card & project ideas, starting at the JustRite Inspiration blog!
My heart sings every time I figure out a nifty gift-y item that I can make for my crafty girlfriends. You know we usually buy the trinkets we want for ourselves so what can you get a girl? A notepad, a journal, a little bag with treats — I'm always hoping I can find something a little bit different, something that person won't get for themselves. So one of my go to gifts this year at Christmas is going to be flowers. The ones that I'm including are ready to use or they can be spruced up with some pearls or a pretty brad. You can use these on cards or on the top of a box or decoration of an altered item. I hunt through the craft store for really low profile flowers, nice ones, and every once in a while I hit the jackpot. Aren't those flowers gorgeous. I think they'll be a pleasant surprise and they remind me of a box of chocolates, but these don't have any calories, ha-ha!!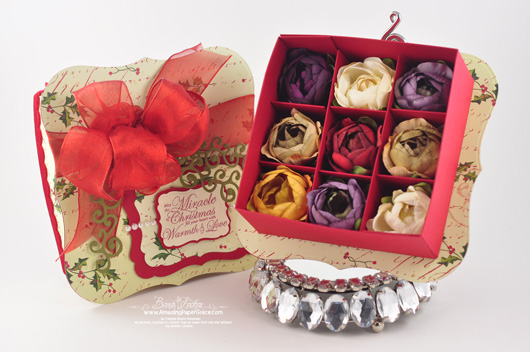 I think the box is about as fun as those gorgeous flowers. When my Spellbinders Grand Labels One arrived, I knew it would be the perfect size for a box – a grand box :-) I cut an outside with design paper and an inside with design paper using the Grand Labels One die template. In between both of those I sandwiched a Grand Label One cut from a heavy 130 lb cardstock. I did the same with the bottom. For the sides of the box I glued a folded strip of paper into a stand up hollow square, scored on one side then attached that hollowed out square to the top. I followed the same procedure for the bottom. For the inside of the bottom, I scored an insert and some cross pieces to hold the flowers.
Then came embellishing the top of the box – since my box is big it makes for a huge palette on top to place elements. I wanted a rather large yet elegant saying so I reached for my JustRite Christmas Nested Sentiments and Verse. Once stamped and cut with Spellbinders Labels Seventeen, I matted yet on another larger size of Labels Seventeen – twice. The bow was glued in place while the top was being constructed and then last of all I embellished with my favorite curlicues from Spellbinders Fanciful Holiday.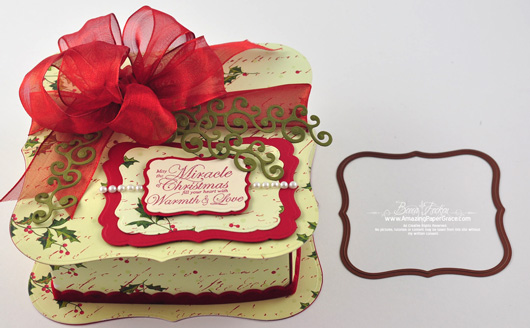 Just to give you an idea of size I've taken a picture of the box next to the largest template for the regular Spellbinders Labels One. So, using the Grand Labels one, you can see that I graduate to a huge box. The finished box size is 7" wide x 7" tall and 2 1/2" deep. The JustRite Nested Sentiments are just the right size!!
Project Recipe:
Stamps: JustRite Stampers – Christmas Nested Sentiments and Verse
Paper: K & Company
Ink: Ancient Page – Bordeaux
Accessories: Spellbinders Grand Labels One, Spellbinders Labels Seventeen, Spellbinders Fanciful Holiday, Pearls, Ribbon, Scalloped Velvet

Please visit these designers' blogs to see what fabulous Christmas projects they have for you on the hop today!
JustRite Inspiration Blog
Debbie Olson
Becca Feeken
Sharon Harnist
Jeanne Streiff
Michele Kovack
Mona Pendleton
Heidi Blankenship
Beate Johns
Sankari Wegman
Selma Stevenson
Kellie Fortin
Angela Barkhouse
Pam Imholz
Kazan Clark
Liz Weber
Stephanie Kraft