Date

US – Eastern Time
Zone

 US – Central Time
 Zone

UK – Greenwich
Mean Time

 November 23, 2016 C&C UK
 10:00 am
 9:00 am
 3:00 pm
 November 23, 2016 C&C UK
  1:00 pm
12:00 noon
 6:00 pm
 November 23, 2016 C&C UK
  4:00 pm
 3:00 pm
 9:00 pm
 November 24, 2016 C&C US
  1:00 pm
12:00 noon
 6:00 pm
 November 24, 2016 C&C US
  3:00 pm
 2:00 pm
 8:00 pm
You can stream Create and Craft UK online from http://www.createandcraft.tv
You can stream Create and Craft US online from http://www.createandcraft.com


. . . and I'm scared to death!  Yep, that's right.  Well, remember in the beginning of the year when I adopted the word 'brave' for my hopes and plans this year, well – this is brave.  Before I get to Day of Giving Friday, I want to share the dates and times I'll be presenting on Create and Craft TV.  So yes, I'll be in the UK demonstrating my new dies along with a trusty companion and long time Spellbinders Ambassador – Christine Emberson.  Together we will show you two styles of working with my new collection and a unique way to polish it all off.  Let's celebrate with a wee giveaway on my blog on Monday, okay?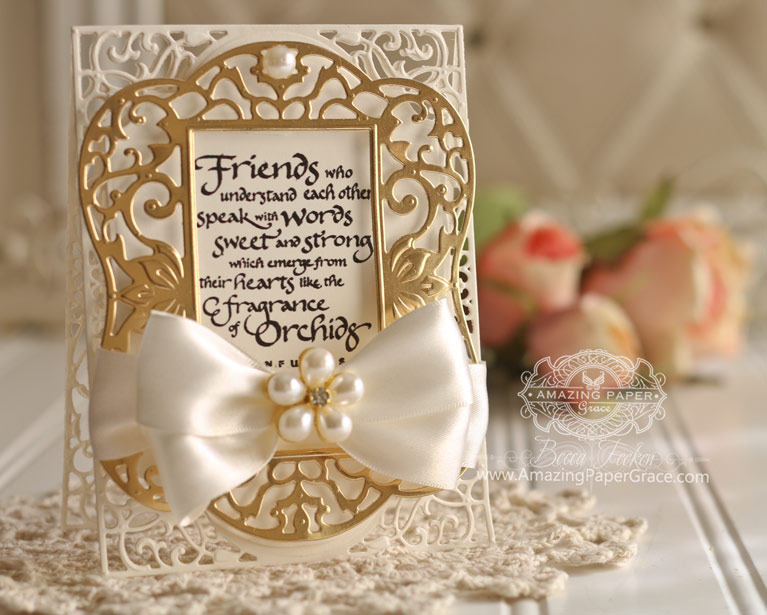 In the mean time, favorite peeps, today is Day of Giving Friday and I whipped up a little card to giveaway to one of my lovely readers.  Simply leave a comment and I'll randomly pick a name.  Today I'm showing a 'friend' card inspired by this lovely sentiment that I grabbed off of Ebay.  Yes, I could recognize the style of stamps as PSX that is no longer in business but was years before their time in classic, professional, romantic stamps.  I have quite the collection and I'm tickled to add this one.  I thought it would fit famously with Spellbinders Labels 54 Decorative Elements and I layered it onto a hinged filigree card base made using Spellbinders A2 Divine Eloquence.





About Day of Giving Friday
For new readers, every Friday it's my pleasure to give away a card.   The card goes to a randomly picked reader (worldwide) who leaves a comment in our conversation. Want to know more about Day of Giving, here's a link to my FAQ's just check out #11.  You can check to see if your name is on the list of winners HERE!  For your comment:  What's the best trip you ever took?


Rubber Stamps: PSX – F3377 (Retired)
Craft Paper:  Neenah Classic Crest – Natural White – Cover – 80lb smooth, Gold Poster Board
Ink:   Versafine – Onyx Black
Accessories:  Spellbinders Labels 54 Decorative Elements, Spellbinders A2 Divine Eloquence, Paper Source Double Sided Satin Ribbon – Soft White, Button


Thanks so much for stopping by.  I'm busily getting ready in the background but am hoping you could say a little prayer for me.  This is a teensy bit outside of my comfort zone but I'm trusting and making a little leap of faith :-)