Good morning sweet friends, I thought I'd share a card that I made earlier this year, but had not shared yet.  It's a baby announcement!   No real baby but this is the hope that one day there will be,  you see, I'm a grandma wanna be!  When I designed Spellbinders Arched Elegance and Spellbinders Arched Elegance Pocket, this was my original intent – to have a little pocket outside or inside the card, for something important.  So often when you make an announcement, the text part with the information is the keepsake part you'd normally take out and add into a scrapbook.   On the inside I used the Pocket so you could do just that – slip the announcement out to read all the details and  for safe keeping.  Of course it makes for a themed card by using the remaining Arched Elegance elements on the front of the card.  The perfect finish is a little oval tag stamped with "Baby Girl" from the Quietfire Design sentiment set called Welcome Little One.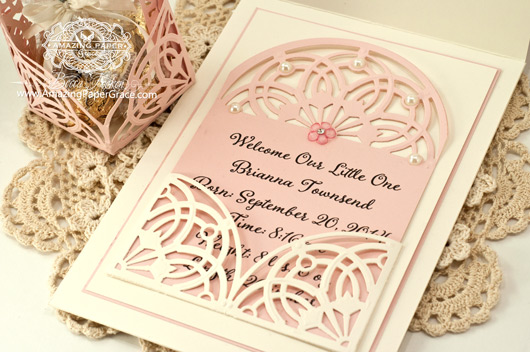 The card is 5-1/2″ x 7-1/2″.  For the inside of the card I adhered the pocket then computer generated the text of the announcement on pink cardstock.  Once done,  I went to my die cut machine to shape the top with the curved die from Arched Elegance.  Can you see sending this in a custom card box to the grand parents and making one for the legacy box for the parents?  Gush!
Hugs to you all and prayers that you have a wonderful Mothers Day!!
Question Parking Lot: