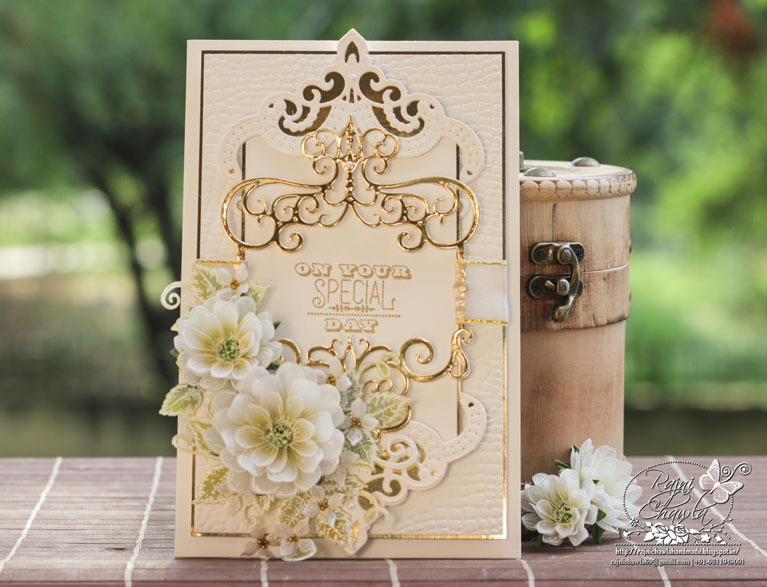 Today, I'm thrilled to be introducing a new Guest Designer to the Amazing Paper Grace Blog.   Please help me welcome October 2019 Guest Designer – Rajni Chawla!  She has a breathtaking style to share with you this month and you can see from her unique use of dies and elements that there will be much inspiration throughout the month.  I've loved seeing how she uses Amazing Paper Grace dies and today I'm sharing her first card above.  Rajni will be blogging with us the entire month so be sure to take a peek at her blog every week of October for a new creation using Amazing Paper Grace dies.  In the meantime, let's learn a little bit about our Guest!
In her creation above, Rajni makes an expert layering using Candlewick Canopy and Candlewick Edged Corners
For the calendar:  Don't forget, tomorrow, October 1st, I'll show you inspiration for the new October Die of the Month.  One little hint – if you've ever had to search for something to say or just the right word for a card, you'll search no more :-)
I am Rajni Chawla from New Delhi, India with my four kids – a daughter, a son and two cute little labradors. About 7 years back, I started off in the field of cardmaking as a newbie. And now, thousands of projects later, I can proudly say that I start each of my creations with the same enthusiasm as I started my first one with. I eat, sleep and breath everything that has to do with crafting. My love for ART simply grows with each project that I make. Flowers and birdies are my weakness.
Vibrant and bright colors are my style. But that said, I enjoy experimenting and love to make mistakes (I call them happy accidents) so that I create something new. Besides designer, I'm a craft instructor and a product developer too.  I conduct various craft workshops all across India and have developed Crystal Clear, Frosting Powder and Twinkling Spark for Papericious, India.
I feel very honored to be Guest Designing Design for Amazing Paper Grace. I am so excited that I'll be sharing my passion with like-minded crafters, some of whom I've always looked up to for inspiration. 
 Here are her social media links:
Elegant Inspiration by Rajni Chawla
Here are two more dazzlers created by Rajni.  They are simply beautiful, I hope you agree!
Rajni is sharing a lovely card using
Candlewick Petticoats
– it's a half doily die with a bracket border edge that can be used on top of or underneath elements.  It's so brilliant the way she has offset it, to draw your attention.
Here Rajni has reached for
Graceful Doily
in her elegant creation.  Her use of gold and cream to magnify the elegance of all the elements is absolutely majestic.  It's so brilliant the way she has offset it, to draw your attention.
I hope to see you tomorrow for the new die of the month!   I hope you'll come and take a peek :-)