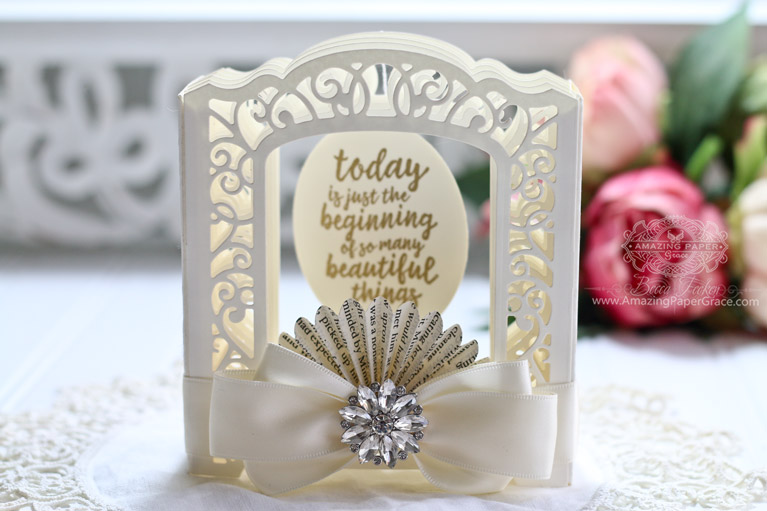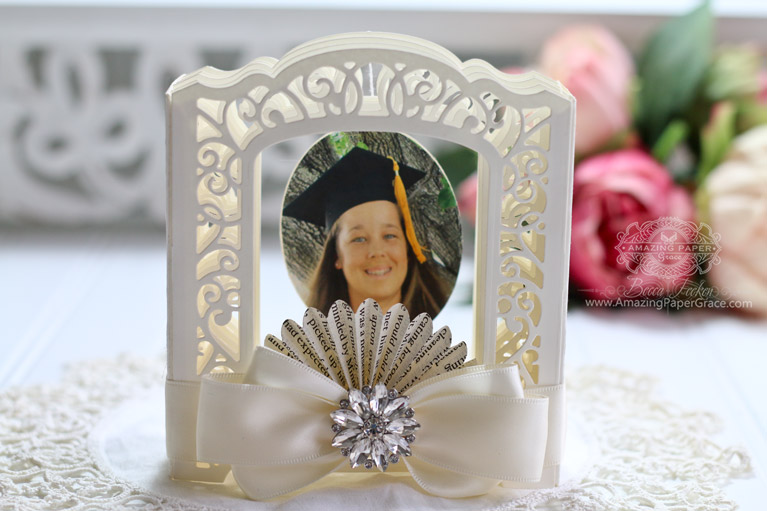 Welcome friends, today I'm introducing a new Amazing Paper Grace® Collection by Spellbinders called 3D Vignettes.  Our hop today is packed with a lot of information about the collection; we done that in hopes of anticipating your questions.  Come back tomorrow and you'll be able to see a video on how to assemble.
What they are:
3D Vignettes is a series of theme dies that can be inserted into what is cut with a Grand Base die to create 3D upright cards that fold down flat to go into an envelope – a collapsible tunnel card!  One of our readers said it right, the cards created are 'collectibles' that your family would never dare part with.  Well, I hope so!!  You can see it in action in the 1.5 minute video ——> HERE.  Where these Vignettes are unique, is the ability to die cut or not die cut each and every layer for an ethereal see through dimensional creation.  Collection elements were designed to cut out whole or to be cut out inlaid for inclusion in a Grand Base.  The collection centers around three themes – baby, love and birthday.  Today we show you traditional uses but with a little dreaming, only the sky is the limit.
How they are used:
The dies and elements can be used as stand alones or in the Grand Base where there is a good degree of mix and match-ability across the entire collection.  Today during the hop, three of the design team members have made three cards to show you how easy it is to isolate different insert sets or combine them all into one.  These are the basic cards –  you'll see them Joanna's Blog, Teresa's Blog and Jo's Blog– they are:
The Simple Card – There is a set of two 'Layering' dies which can be used as inserts or used on their own in regular cards.
The Embellished Card – There is a set of shaped dies, these add drama or can be used on their own in regular cards.
The Decked Out Card – There is a 3D "Grand" Card, which stands and collapses, made for use with purchased inserts or to use with dies from your own stash
A link list is below but you'll also get to see some unique off the page projects from Melissa and Judy!
My Card Today:
Today I'm showing you a card you can make using the Grand Cabinet Card (Base).  I'm not using any additional inserts and I'm not using any  themes, just the Grand Cabinet, that's all :-)   Up until now all cards have had a solid back but today I created a Spinner Card where I've made the Grand Cabinet into a frame that you can see all the way through.   It is embellished using the Tiered Rosette Die and the oval is from Hemstitch Ovals.  You'll notice it's a little bit different on the edges – I covered up all tabs that normally extend through the slots so that I would have a sleek, clean look.  Two ovals glued back to back with a string in between make the spinner.   The string is attached to the backside of an insert with Glossy Accents.  This is one of my favorite pictures of my sweet girl and the saying on the back commemorates the occasion – she was graduating from college. Here are the new dies I used:
                                          
Availability:
These dies are available on February 13, 2018 – get email notification the moment they are loaded by clicking on the die set and putting your email address and clicking on Notify Me ——-> HERE.
In the meantime, be sure you leave a comment on this post for a chance to win an Amazing Paper Grace Die from the Chantilly Lace Collection.
Prizes:
There are six dies that are being given away. One name will be randomly picked from comments left on each of our six blogs on the Introducing 3D Vignettes post between February 7 and February 11, 2017 at midnight US Central Time and our international friends can participate!  The randomly selected names will be announced on the Amazing Paper Grace Blog on February 12th.  (All giveaways for this hop are managed by and the responsibility of Amazing Paper Grace)
Up for grabs is an Amazing Paper Grace die of your choice from the the Chantilly Lace Collection; there will be a total of six dies and a winner can win once among all six blogs.   If your name is selected, simply claim it within 2 weeks of announcement by sending your address through the form under the Contact Tab on the Amazing Paper Grace Blog. The dies will be mailed out from Amazing Paper Grace.
Click the links to get to more sweet samples:
Visit Joanna   – joannakrog.blogspot.com to see her 3D Vignettes Cards with the Love Theme.
Visit Teresa   –  victorianpaperqueen.blogspot.com to see her 3D Vignette Cards with the Birthday Theme.
Visit Jo           –  prettypaperpearls.blogspot.com/ to see her 3D Vignette Cards with the Baby Theme.
Visit Melissa  – keepsakesbymelissa.blogspot.com  as she shows off Large Filigree Numbers
Visit Becca     – amazingpapergrace.com/blog to show what she's doing with Layered Rosettes
Visit Judy      –  judyhayesdesign.blogspot.com/ with a clever project using one of the 3D Bases
Thanks so much for joining us for Introducing 3D Vignettes!
Leave a comment – tell us, which of these dies would is closest to your heart!!