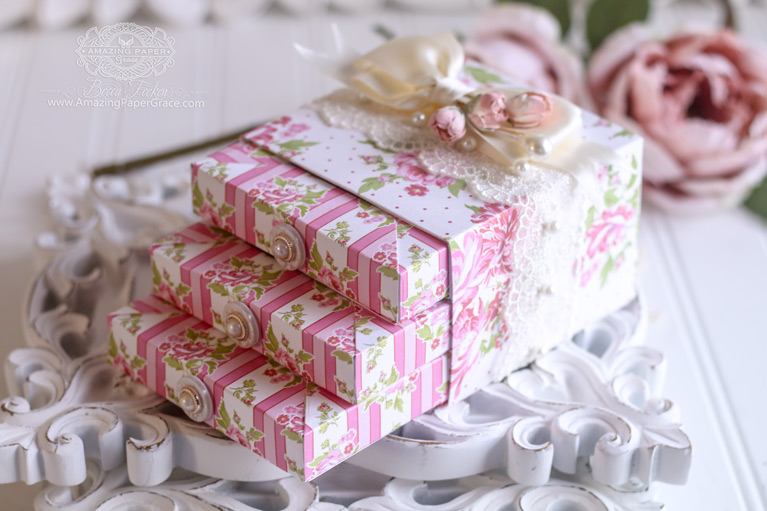 Hi there, Becca Feeken with Amazing Paper Grace here.  I'm so tickled to be introducing my newest collection Shadowbox Vignettes and in particular Shadowbox Vignettes Adjustable Frame – 1″.  Can I just tell you that I'm smitten?  Here's why.  I'm introducing three new Adjustable Shadowbox Frames that will make Frames any size, any dimension.  And if that's not enough, I also designed a whole host of embellishments that can be used with Shadowbox Frames or with stand-alone cards.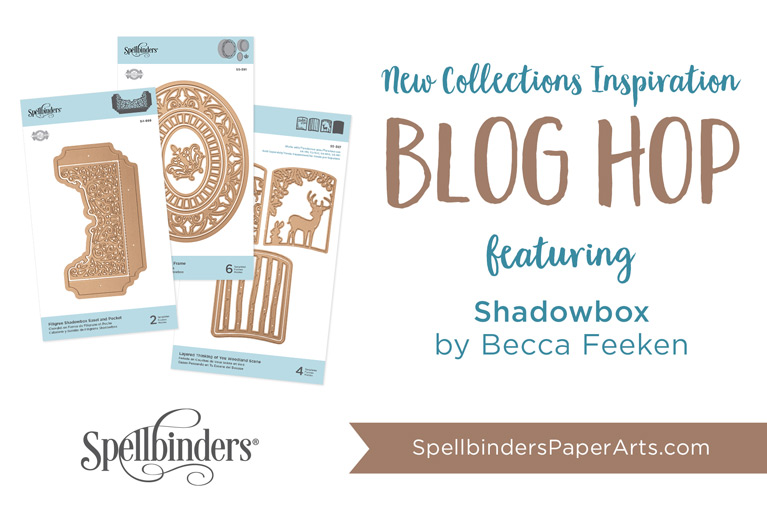 I'm not kidding when I say you can use the frames for a gazillion different things.  Kids artwork on fridge, a mailing caddy for a dimensional card,  a diorama – I could go on.  But that's not why I'm so tickled today, I'm tickled because I fell head over heels in love with making this project today.  Indulge me friends, I took a lot of pictures.  Meet my new style of gift box made from frames.
That's right, frames got awesome enough to take the gift giving scene away from the plain ole box.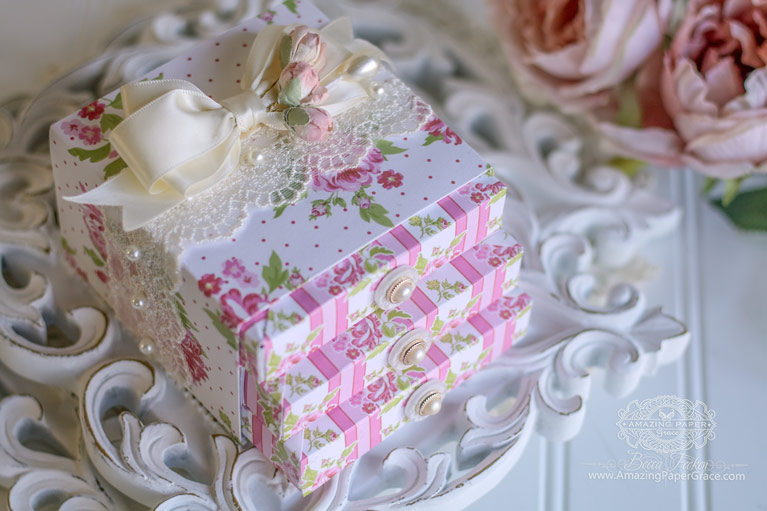 My project today is using Shadowbox Vignettes Adjustable Frame – 1″ to make the three sweet little drawers that live in the chest.  I've pulled out the drawers a little bit so that you can see their dimension.



And here the drawers are all pushed in and you can see the little buttons I added as handles.  Now that I know the size needed for these drawers I think my button hunting is going to be a little addictive!



Right smack in the middle of all the fun are these sweet little 1″ frames!!  See, I told ya!  These frames are the basis for so many fun 3D projects and are a must add to your toolbox.  Here I've made them 4″ x 4″ but you could make them rectangular if you like because they can be made any size your heart desires.
Quick Tip – How to Assemble Shadowbox Vignettes Adjustable Frame – 1″
With the 1″ frame you cut 4″ strips.  Cut the length of the 4″ strip to match the dimension you want your frame.  Then, apply two matching dies to the edge of your paper.  The matching bookended dies will cut the leg of your frame and prep the edges for perfect assembly.
I'll be linking a video at the end of my post to walk you though!





You might just wonder what would fit into such a lovely but little box . . .



Then Bam!  Look at what treasures you can store there!  My idea is to give a gift trio of jewelry and to create a box where the first drawer holds the earrings you are giving as a gift, the second drawer holds the bracelet you are giving as a gift and the third drawer holds the necklace you are giving as a gift.  You can make the trays any size you like.  Can you imagine the surprise?
Video on How to Assemble Shadowbox Vignettes Adjustable Frame – 1″
If you like my 3D style of design, I hope you take a second to:
Subscribe to get Amazing Paper Grace in your inbox   ——->HERE
Hang out with me on Facebook                                       ——–> HERE
Peek over my shoulder on Instagram                             ——–> HERE
Wile away the hours browsing with me on Pinterest  ——–> HERE
Now, prepare to be amazed!  Below I'm sharing the blog hop list.  You will want to visit everyone on the list.  Be sure to leave a comment because it will put you in the running to win some gift certificates.
Giveaway:
To celebrate this release, we are giving away a $50 gift certificate to 3 lucky blog readers – selected from the comments across all of the blogs in the hop. Giveaway closes on Sunday, February 10th 11:59 pm EDT. Winners will be announced in our blog hop post the following Monday.  The winner is responsible for shipping cost, duties and taxes.
Blog Hop List:
Spellbinders
Becca Feeken
Nichol Spohr
Hussena Calcuttawala
Jung AhSang
Tina Smith
Lea Lawson
Desiree Kuemmerle
Dawn McVey
Olga Direktorenko
Gemma Campbell
Sandra Nagel
Jennifer Snyder
Jean Manis
Yana Smakula
Don't stop here, lol!  After you've seen the last person on this list, guess what – MORE PRIZES!
MORE PRIZES – I'm giving away Three Dies
My creative team and I kicked off Shadowbox Vignettes two days ago with some sweet inspiration.  For our hop, I'm giving away 3 Dies plus the inspiration along the way is amazing.  There are 6 more blogs to leave comments on to be in the running for the dies – it all begins ———–> HERE.


Stamps: None
Paper:  Neenah Classic Crest – Natural White – Cover – 80lb smooth, Trim Craft – Pretty Posy
Ink:  None
Accessories:  Amazing Paper Grace Dies by Spellbinders, Shadowbox Vignettes Collection, Adjustable Shadowbox Frame with 1″ Border
For my regular sweet, sweet tribe – thanks for an amazing week; you all ground me.  For new eyes that I'm meeting for the first time, welcome! I hope you like my creations and design style and I'm pleased you took a moment of your time to stop by.  Please come again, or better yet, stay a while — I'm looking forward to meeting you!