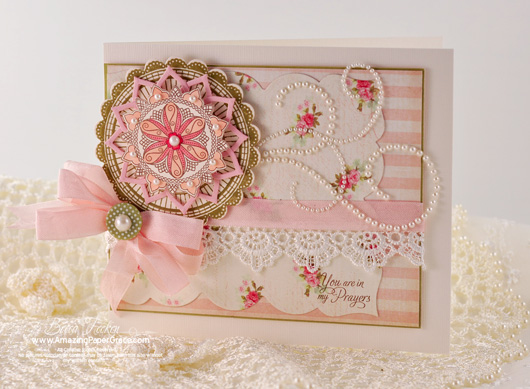 Blog friends, you sure make my heart sing!! :-)  I feel like I've been a woman of not to many words lately but honestly I'm "mind tied" with ideas and things I want to do.   Thank you for stopping by, I have a card to share today – thankfully.  Sometimes I have a clear idea of what I want to do but it doesn't work the way I originally thought and I end up pushing things around, um, for a while.  No complaints here though – I enjoy every chance I get to play and only wish I hadn't waited so long to jump into the water.  How about you?  What are you waiting for (nudge, nudge)?   So, my card today is another frilly kind of thing which definitely goes in hand with the feel of the new stamps being released by JustRite Stampers.  Our release today is called Kaleidoscope Medallions.  Oh gosh, every time someone says medallions, my ears perk up!  I also jumped at the chance to use Grandma's Doilies again, and stamped a small sentiment in the lower right hand side of my card from the Be Strong set.

One of the base layers is cut from Spellbinders™ Grand Labels Twenty Three.  The focal point is a medallion whose bottom layer is Grandma's Doilies cut with Spellbinders™ Scalloped Circles LG.  The next layer up is made from using two Spellbinders™ Anemone Flower Toppers cut and stacked like I've previously done in HERE.  It's topped by a layer stamped with Kaleidoscope Medallions that I cut by hand.  Whew, I didn't know if I could really say those last three words, lol, talk about words I never utter!  It really was not bad at all, this was an easy shape to cut.

The other JustRite Designers have good stuff to show here – if you're surfing today try to stop by:
JustRite Inspiration
Becca Feeken (You are here!)
Kellie Fortin
Michele Kovack
Barb Schram
Stephanie Kraft
Mona Pendleton
Angela Barkhouse
In the meantime, happy Fri – day!!  Put your crafty muse to work today . . . take a risk!!