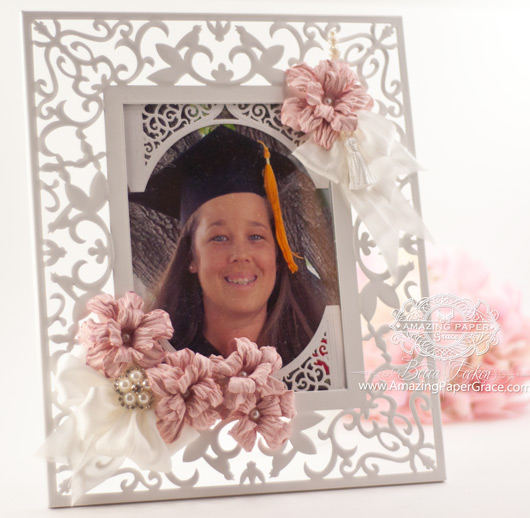 Good morning sweet friends!  I'm popping in to share a quick personal project I made . . .  because sometimes we turn our crafty endeavors to decorating our homes, right?  So this is a picture of my sweet girl and this is her college graduation picture; believe it or not, this is one I didn't have sitting out at home.  I picked up this very inexpensive frame at the place that literally extracts all the money from my wallet, it's my Willy Wonka and the Chocolate Factory kind of place otherwise known as Ikea.  The white metal frame is very pretty but I wanted to spice it up a little bit, so I simply used  Spellbinders Swirl Bliss Pocket (eek, one of my new Amazing Paper Grace line of dies) to frame the picture.  Since this year has been one of flowers for me, I made a batch of flowers using Spellbinders Garden Blooms (by A Gilded Life) to embellished the frame.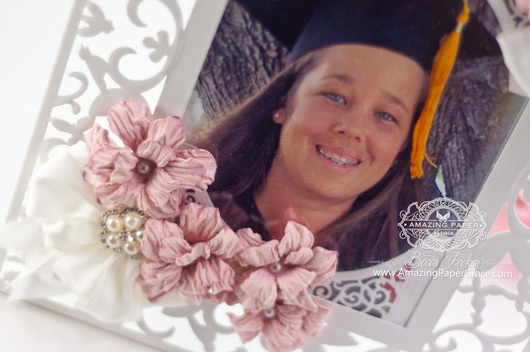 This was a quick an easy project that slow me completed in less than an hour!  I simply printed her picture with my Inkjet Printer, cut it to size, inserted the Swirls Bliss Folder die at the top and bottom of the picture before inserting into frame.  I hot glued the bows and flowers into place and finished with a corsage pin and a tiny little tassel :-)   So much of what I make leaves the house, so every once in a while, I'm tickled that a piece that gets to stay and reminds me of those I love (gush).
Tomorrow I'll be back with some new items that landed at my house from Quietfire Design!  I hope you'll stop by and see!
Question Parking Lot:
Many of you have asked  where to get my dies.  They are currently in the Spellbinders store for order :-).  The best source for up-to-date information is Spellbinders customer service (contact information HERE at the bottom of the page) when you have questions about items in stock and anticipated shipping dates.