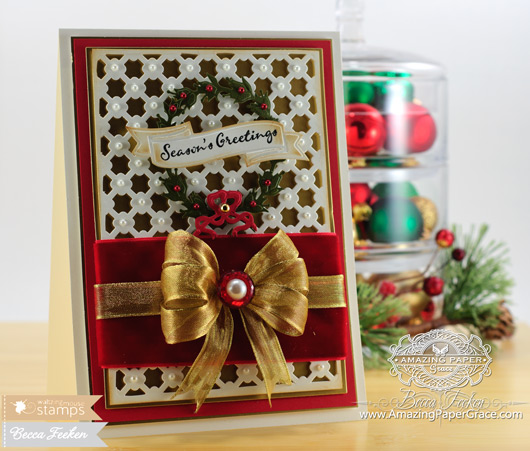 Yep, I double dog dare you!! :-)  I double dog dare you to even think about using this background without wanting to put a pearl on every dot.  If you can do it then I'll have to give you a hand – you're a brave crafter.  Me, I couldn't resist, I had to do it.  I even counted and knew that it would take 94 little pearls, but I revved up a movie and sat down with my tweezers.  The awesome thing is that it only took me about 10 minutes to put the pearls on the Spellbinders Crisscross Expandable Pattern.  So this is a card I've had on my mind for a while and had to get it out of the way because I kept thinking about it.  The other little thing I could not resist was to take the laurel garland from Spellbinders Laurel and Bee and make it into a wreath – so easy I'm smiling and now I have a double use for that die and adore the little bow :-)  I took a sentiment from Waltzingmouse Stamps called Compliments of the Season and curved it ever so slightly to fit the Spellbinders Ribbon Banners die template.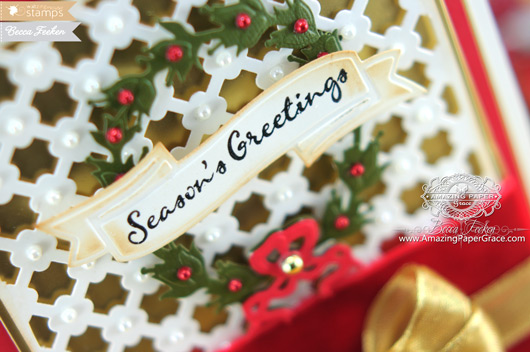 Here's your Step By Step Recap of die cuts and layers, from the bottom up:  Start out with a Card Base  7-1/2″ tall by 5-1/2″ wide (or see how to make that size with the Hinge Technique HERE) , foam tape, gold matting layer cut to 7-1/8″ x 5-1/8″ , red layer cut to 7″ x 5″, foam tape, gold matting layer cut to 6-5/8″ x 4-5/8″, die cut layer using Crisscross, foam tape (double layer), die cut layer using Laurel and Bee, foam tape (triple layer), die cut layer using Ribbon Banners.  As always, stack, position ribbon, pearls and bow on correct layer, admire, then glue!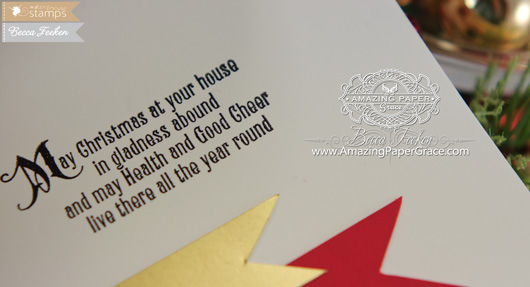 Hope you're having a blessed weekend!  See you tomorrow!