Hi there sweet friends, I have an easy peasy, all die, no measuring card to share with you today.  I was inspired by the sentiment but I wanted to keep it simple.  Three layers, that's all and since they are staggered, the layer behind them shows off very well.  The sentiment is Wordsworth from a set called the Women Collection – I just adore Louisa May Alcott.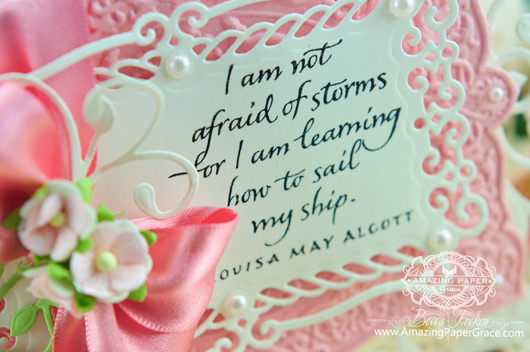 I used Spellbinders Exquisite Labels Eleven for my card base.  I have a video on how to cut and join each of two pieces for a hinged card – you can see that HERE.  The next layer is the Mediterranean Medallion M-Bossabilities 3D folder, then the upper layer is Spellbinders Valiant Honor.  The flowers are embellished with the petite little leaves and swirls from Spellbinders Sprigs.
Here's how I made it – step by step:

Cut/emboss two Exquisite Labels Eleven from cream cardstock.  One of the cuts must encase a 1″ horizontal fold in order to make a hinge.  For visual learners see the Hinge Video.  

With pink cardstock, emboss Mediterranean Medallion M-Bossibilities 3D Folder and trim around the motif edge with an exacto knife.

Cut/emboss second largest motif from Valiant Honor with cream cardstock.  Stamp with sentiment then attach to Mediterranean Medallion with double foam tape.

Take an 8″ length of  Blossom ribbon to span across card vertically over both layers of Mediterranean Medallion and Valiant Honor, securing on back with tape.  Attach to card base using double foam.

Embellish with pearls and add bow on top of vertical span of ribbon.

Cut/emboss leaf piece of Sprigs with green cardstock, and cut/emboss flourish piece of sprigs with cream cardstock. 

Add Sprigs and flowers to bow.

 
Thanks for stopping by today!  Tomorrow I'll be back with an inspirational card using a lovely Quietfire Design sentiment – I hope you'll join me!
Question Parking Lot: