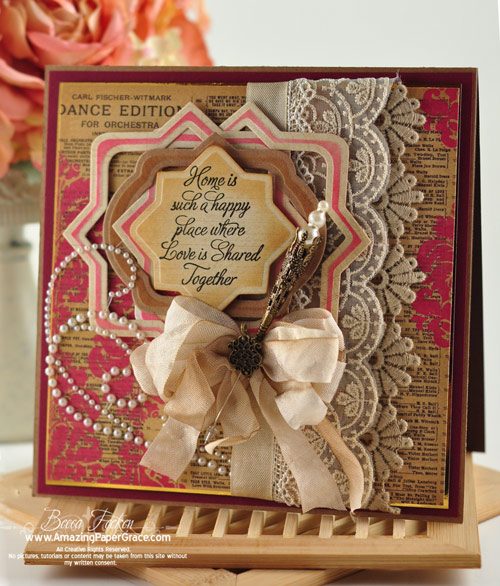 Good morning friends!  Whew, what a busy week!  It's a new year and it already feels like time is flying.  Not that I wasn't productive last week, but I really have my hopes set on getting some things done this week – er…um that that I've been putting off.  You know, things like chores, lol!  I'll be the first to procrastinate by sitting down to the craft table – but you know what, it sure feels good.  Today we get to show another newly released set for JustRite Stampers called Warm and Cozy.  It goes hand in and with matching die templates that I used in my card, they are Nested Medallion Labels and Nested Oval Medallion Labels

Lace on card . . . check.  Tons of pearls . . . check.  A smattering of bling . . . check.  Awesome new die templates . . . check, check.   (Smile)   I love stamping!
Check out what the rest of the Design Team have created with this new set.  Here are links for those who have cards:
JustRite Inspiration • Becca Feeken (you are here) • Michele Kovack  • Debbie Olson • Sharon Harnist • Beate Johns • Kellie Fortin • Kathy Jones • Sankari Wegman • Kazan Clark • Heidi Blankenship • Barb Schram • Angela Barkhouse
What a glorious Monday!  I hope you have a lovely week lined up,  I'll see you tomorrow!