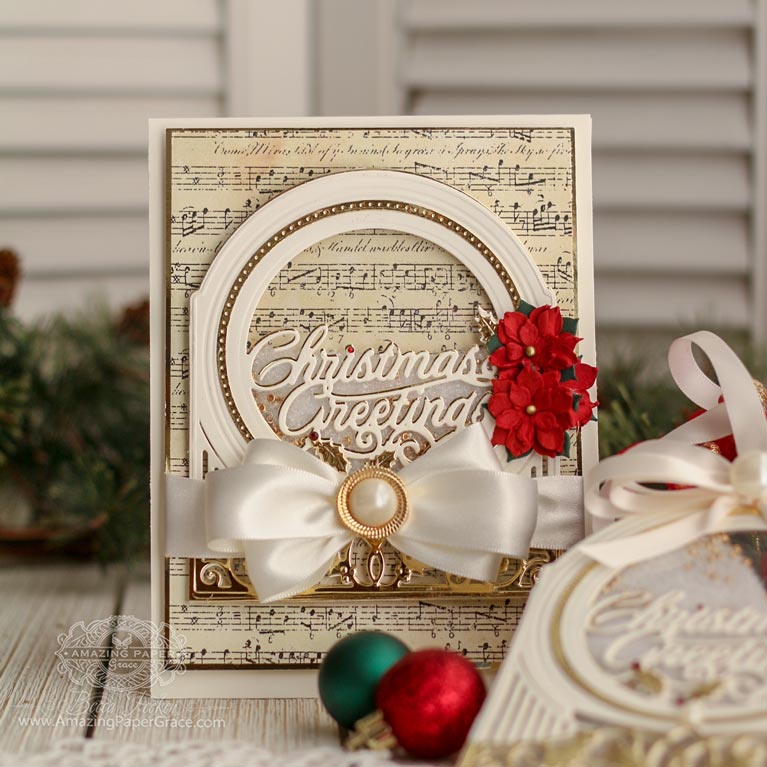 I'm so blessed today to be participating in a Spellbinders New Inspiration Blog Hop featuring my newest Christmas Collections 3D Holiday Vignettes and Glimmering Glimmer Designs.   Not only that, but a host of expert bloggers and crafters have joined in for the occasion.  I'm always bowled over when I see the creativity someone has lavished on a new design and I know this hop won't disappoint.  Plus, there are prizes!!  I have the entire list of hops at the bottom of my post.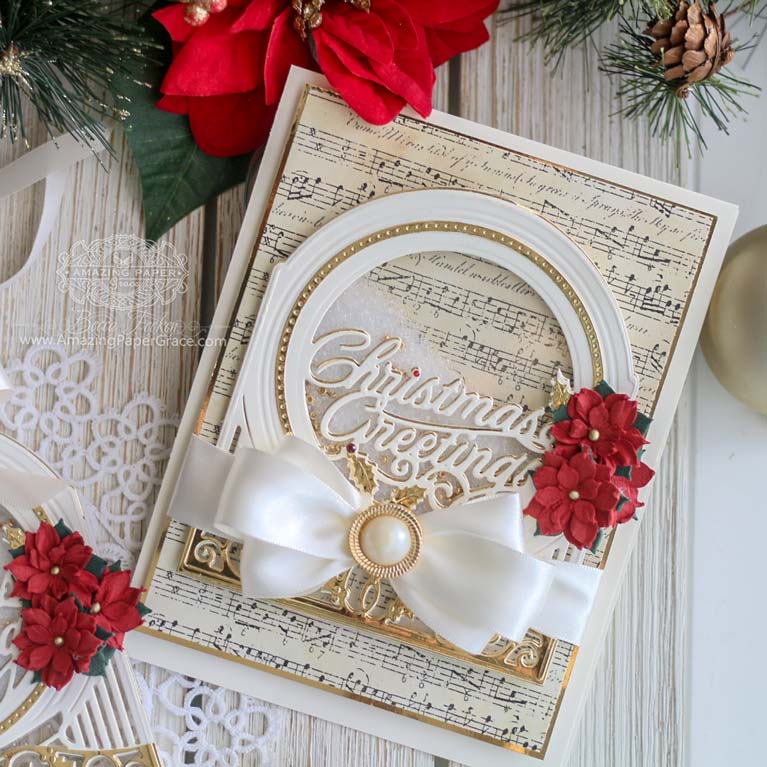 Today, I decided to make a Shaker Card and Matching Ornament.  Because it has a lot of area, I chose the Grand Snow Globe 3D Holiday Vignette and decked it out in cream and gold.  I simply added a layer of gold behind my cream layer for the extra sparkle to peek out.  I pulled out a piece of music patterned paper to give the back of the globe a little bit of contrast.



I don't often make shaker cards but when I do, I love the experience.  The Snow Globe is begging to be made into a shaker card and the ornament is even simpler.  I filled mine with glitter glass and gold beads that are sandwiched in between two pieces of acetate and glued to open aperture pieces of the Snow Globe Die.  I cut an extra gold rim just for embellishment and then trimmed off the bottom of a gold die cut to pick up that lovely gold detail.
The card is made the same as the ornament except that I mounted it on cardbase and used popdots to give it some lovely dimension.  And then, I added a pretty bow.


Stamps:  None
Paper: Neenah Classic Crest Natural White – Cover  – 80lb Smooth, Hobby Lobby
Ink:  None
Accessories:  Amazing Paper Grace Dies by Spellbinders, Grand Snow Globe 3D Holiday Vignette
Spellbinders Giveaway:
To celebrate this release, we are giving away a $50 gift certificate to one lucky blog reader – selected from the comments across all of the blogs in the hop. Giveaway closes on Sunday, September 1st, 11:59 pm EDT. The winner will be announced in the blog hop post the following Tuesday. The winner is responsible for shipping cost, duties and taxes.
Your Next Stops:
I hope that your trip through the list loads you up with an extra helping of holiday inspiration.  It's already almost September and Christmas will be here before you know it.  Happy Holiday Crafting!


Thanks so much for stopping by!!!  Be sure to leave a comment for the gift certificate Spellbinders is giving away.  Also if this is your first time here on the blog, consider following me here or the other social media channels:
Subscribe to get Amazing Paper Grace in your inbox   ——->HERE
Facebook  ——–> HERE
Instagram  ——–> HERE
Pinterest  ——–> HERE
For regular blog readers, I made an oops!!  I was supposed to pick winners for our last blog hop.  I flat out forgot!!  So sorry, I will post them tomorrow :-)