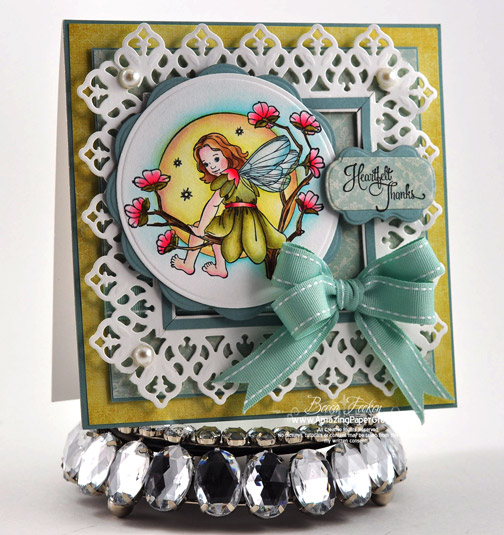 Hi there sweet friends.  Thank you for persisting and getting through my little comment glitch.  I would ask that you continue to try and let me know how it's going.  It's being worked on and will hopefully be alleviated but we won't know until you report back that you're not having any problems.  Okay, so on to my card for today.  I'm going straight for the spring look, right?!?  Actually I colored up this sweet stamp earlier in the month but had it lined up waiting to finish showing Christmas.  This is another of the JustRite Stampers new releases in red rubber – cling!  Called In the Moonlight, it might look involved, but I assure you it was easy!  The packaging for the Cling Stamps has a colored sample that you can easily follow if you're shy about your coloring skills.  

Since it's sooooo cold outside, there's no better time than the present to get stocked up on images to put on cards, right?!?  By the way, there's still a couple of days to get in on the sales going on at JustRite – stamp storage cases are 50% off (I loaded up on these).  Also Nested Sentiments are 20% off and there are still many clearance items left at up to 60% off.  Check it out HERE. 

HOW IT'S MADE:
1. Make Card Base from white – mine is 6″ x 6″
2. Cut 6″ x 6″ panel and a slightly smaller panel as first layer.
3. Add another layer and mat smaller than previous.
4. Cut four Spellbinders Lace Border Grand, miter and adhere with foam tape.
5. Add a strip of accent color around edge of frame, tie ribbon through frame, add pearls.
6. Color main image and cut out with Spellbinders Standard Circles SM
7. Mat main image on Spellbinders Big Scalloped Circles LG, adhere with foam tape.
8. Stamp sentiment, cut out with Spellbinders Labels Fourteen.

Bundle up and keep warm!!  Thanks for stopping by, I truly appreciate it!!