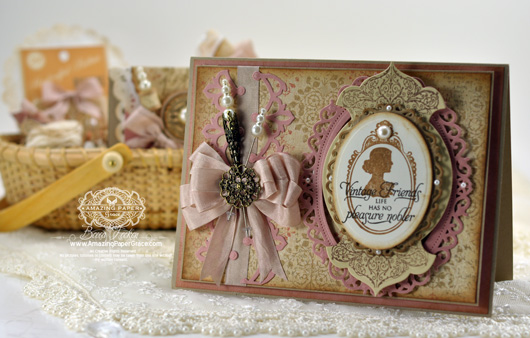 Good morning blog friends!  I got a chunk of craft time, so I sat down and got inky with some new stamps and reached out all over my desk to make some projects for my crafty friends.  I never know whose gonna get what, but I love to have special craft gifts ready for the occasion before it comes knocking at my door.   Of course it's always wonderful when the gifts you make don't break the bank or need a whole slew of supplies, so I reached out some simple supplies. . . let me take you though what's in my gift basket!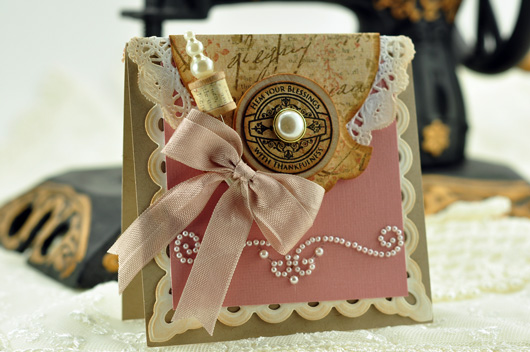 A quick and easy enclosure card with a wooden spool topper – the stamp set is JustRite It's Sew Vintage (this set is part of October's Kit) and I embellished it with tiny spool speared with a corsage pin (Maya Road) and spool toppers I got at Hobby Lobby/Michaels.   I cut one die from the Vintage Frame Labels (this set is part of October's Kit) and folded it along with  a store bought doily across the top of the card for decoration; the bottom die is Spellbinders™ Asian Motifs.  I reached back and pulled out one of my favorite K&Company papers that I just found again in one of their recent releases.
A Button Card – I was so tempted to make these into magnets but decided the recipient could just as easily use them on a card.  They are simply 1″ wooden spool toppers (disks) and I used Vintage Frame Labels and Spool Toppers to  cut the tops.  They are distressed with Brushed Corduroy Distress Ink and glued to the wood using Ranger Crystal Accents and topped with a pearl.  The card is  from My Minds Eye.
Spools of Linen and Lace – these are tidbits I reach for all the time.  I have the huge spool, so I thought it would be great to wind some off and onto smaller spools for a gift.  They use spools you can get at a local craft store in the unfinished wood section  and all I did was cut the appropriate size using the Spool Toppers, distressed with Brushed Corduroy Distress Ink and glue tot he spool using Ranger Crystal Accents.  I have tons of these small ziploc bags around, so I put each spool type in a bag and topped it using a store bought doily and and the Vintage Frame Label along with some seam binding and a bit of filigree.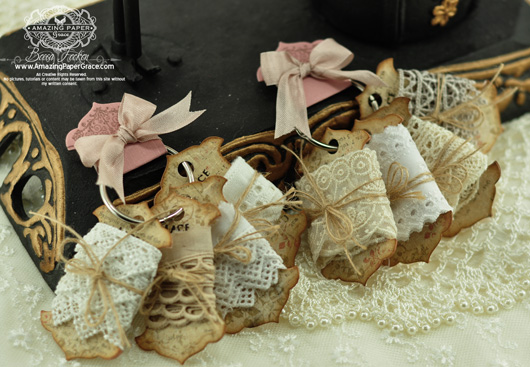 Lace Bobbins – Using the 3-1/4″ bobbin shape from the Vintage Frame Labels set I cut in duplicate to give the bobbin some weight, and glued them back to back.  Then I punched a hole and stamped the header of each bobbin with the word "Lace" from It's Sew Vintage.  They are each distressed with Brushed Corduroy and threaded on to a hinged ring.  The same bobbin shape is stamped with Filigree, folded in half and seam binding tied.
Using many of the elements used to make the gifts, I made a card.  You know how I love to layer, so I stacked it up!!  The bottom layer is Spellbinders™ Floral Ovals, then Vintage Frame Labels followed by another layer of Floral Ovals followed by Spellbinders™ Classic Ovals LG, on top.  For the peaks on the Vintage Frame I used the matching filigree stamps from It's Sew Vintage.  You'll kill me, but I don't have the name of the cameo and frame – they were on my desk from a previous crafting frenzy, lol.  The wonderful sentiment about Vintage Friends comes from It's Sew Vintage  :-)  I laid out a border using Spellbinders™ Damask Accents and finished up with a seam binding bow, filigree and a pic.
I'm always tickled with something I can make quickly, that's a no-brainer.  So as I sit down to get my Christmas crafts in order, I think some of these sets are going to be high on the list.  A little bit of lace, a little bit of linen…
SUPPLIES I USED
Stamps: JustRite – It's Sew Vintage
Paper: K & Company, Neenah Classic Crest Natural White, Coredinations, My Minds Eye
Ink: Amuse – French Roast, Versafine Onyx Black
Accessories:  Vintage Frame Labels and Spool Toppers, seam binding, Wooden Spools and Disks (Michaels/Hobby Lobby), Recollection Pearls, Zva Creative Pearls, lace from my stash, linen – May Arts, doilies (Michaels), Spellbinders™ Floral Ovals, Spellbinders™ Classic Ovals LG, Spellbinders™ Damask Accents, Spellbinders™ Asian Motifs

Hugs to you all, thanks for stopping by today!  Hope you have a chance to get crafty :-)