Hi there blog friends!!  I hope you had a quick second and peeked in at what the rest of the JustRite Design Team worked up with the magnificent new stamps!  We're all a-buzz about these new stamps and the shabby french feel.  No worries, with the JustRite Design team you can always go back and do any of our hops later.  Much care is taken to preserve the links that get you directly to "the specific" post of each design team member.  That leads me on to my card today – another new JustRite Stampers set called Greetings from Paris.   I love the Carte Postale stamp – you can basically take any shape you like and make it into a post card.   I also used the bracket as a background stamp and my card would not have been complete without using that fabulous border.

I built my card using Spellbinders Labels Twenty Three as the base and layered it on top of Spellbinders Postage Stamps that were cut as a frame using Spellbinders Classic Squares LG.  I stamped the bracket using a lighter ink and overstamped with the Carte Postale stamp.  Instead of my normal lace across the bottom I instead used the Fleur de Lis border.  It seemed that the bottom of the card was just begging for treatment so I used the Classic Petal Edgeabilities set but covered up a line of holes and added a pearl to each repeat.  The sentiment is stamped onto Spellbinders Twisted Metal Tags and Accents.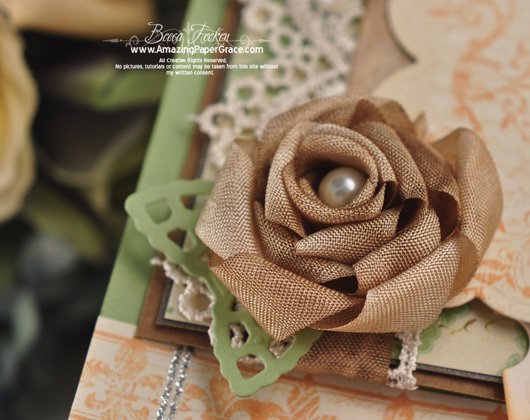 I added another Scor-Tape flower and today I'm even going to link to my tutorial :-)  Sorry for forgetting that yesterday.  They are pretty easy but I have a slight twist on the technique that I'll be making a video of soon.  I added a small accent from Spellbinders Lace Doily Accents – because to me they look like leaves!
SUPPLIES I USED
Stamps: JustRite Stampers –  Greetings from Paris
Paper: Me And My Big Ideas, Bazzill, The Paper Studio Pearlescent Paper
Ink:Tea Dye Distress Ink, Walnut Stain Distress Ink, Vintage Photo Distress Ink
Accessories: Spellbinders Labels Twenty Three, Spellbinders Postage Stamps, Spellbinders Classic Petal Edgeabilities, Spellbinders Twisted Metal Tags and Accents, Spellbinders Lace Doily Accents, pearls, lace, seam binding (Hug Snug)

Take care dear friends!!  I can't say enough how grateful I am to be privileged enough to share part of your crafting day.  Here are the other DT members who have created things with the new sets!!

JustRite Inspiration
Becca Feeken
Debbie Olson
Sharon Harnist
Mona Pendleton
Michele Kovack
Kathy Jones
Stephanie Kraft
Kellie Fortin
Angela Barkhouse
Barb Schram
Heidi Blankenship
Kazan Clark
Sankari Wegman