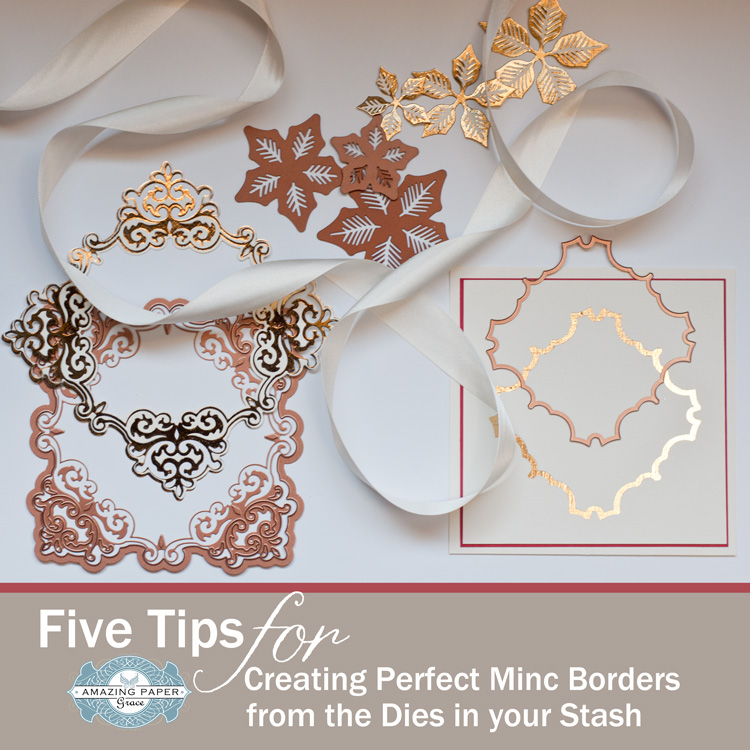 Hi there friends, I'm going through messages left for me and am picking up on quite a few questions about the Minc Machine; I thought it best to devote a post to cover the most repeated questions.  I recently did a tutorial to show you how to use your Minc Machine to create borders and detail from diecuts that you can see HERE.
WHAT IS A MINC MACHINE
A minc machine is a small device that through heat will allow you to adhere the appropriate foil to a toner based image.
WHICH MINC MACHINE
There are several machines readily available on the market made by American Crafts; I'm most familiar with the ones branded by Heidi Swapp and purchased mine online with Michaels.   The Minc machine I chose has a 13″ opening and  a new mini versionthat has a 6″ opening.   Others have tinkered around with laminator machines to get similar results.  The bottom line is Enough Heat + Quality Toner = Success.
HOW TO CHOOSE YOUR PRINTER/SCANNER COMBO
You will want a laser printer/scanner combo that gives you a pristine copy as the amount, quality and density of toner adhered to the paper is what determines a large part of success with foiling.
My recommendation is to walk into an Office Supply Store and print a black and white copy on to run of the mill copy paper, then take it home and run it through your Minc machine.  I tried this on several printers in Office Depot and they were only too happy to help.   Because there are variables in each printer as far as toner and heat, you really won't know unless you test it.   Most printers can be purchased on site or you can take your endeavor online once you have a model number you like.    Keep in mind this is one of a few variables that go into successful mincing and if you can get the right toner from the start, it will be easy to trouble shoot any issues that pop up.
If you are getting a printer that has a scanner combo (so that you can photocopy your dies to cut them and create borders) please be sure that it does not shink the copy.  You can check this by taking a fair sized die, like a square, to the store with you.  Compare the copy to the die by laying over top to assure they are identical.  In the printer, adjust the settings to be a 100% reproduction and any options to scale should not be checked.
TIPS FOR TROUBLESHOOTING MINC FOIL COVERAGE
Toner – You want the the most opaque toner coverage possible so I recommend testing with plain papers that do not have coatings.   A good printer will fuse the toner with the paper.  If you are getting spotty coverage, it is likely that the toner has not made a stable bond with the paper.\
Temperature –  The Minc machine has several heat settings.  Turn the machine on and although you are ready to minc within a couple of minutes, I find better results if I've left the machine on for about 5 minutes before minc'ing.   I find that setting #3 works for most of my applications.  I have corrected previously bad applications by raising my heat setting by 1.
Thickness – The paper that will completely clear your printer is the best thickness and is likely to be up to 65 lbs.  I've had great success using Neenah Classic Crest Smooth 80 lb paper in my printer.  I unfortunately have not been able to use 110 lb paper – although I can get it through the printer, the toner does not effectively fuse to the paper so the result is a spotty application.
Texture – Smooth papers with no coatings work best.  I tempted fate by trying a linen textured paper that yielded spotty results.  Upping the temperature by 1 made for a better application but not perfect.
Trial –  Test first!  Test on plain paper before mincing on your final project especially if you are trying something different :-)
ALSO MAKE SURE THAT. . . 
Foil covers anything that has toner on it before running it through the minc machine otherwise the toner will come off on your carrier sheet.
There are no wrinkles in your foil and your pieces are not overlapped, these tiny things keep the foil from transferring.
I've had a great deal of success using a Canon Laser Printer that is very old, purchased back in 2008 for which I only purchase Canon toner.  Most laser manufacturers carry cartridges for only about 7 years so I wouldn't want you to purchase what I'm using.  But, if you are having problems and think it's your printer toner or want something to compare it to – drop me a line from the contact tab at the top of my blog and I'll send you a copy made from my printer for you to test against yours.


If you are using a minc machine and you have a solid printer or printer/scanner combination that gives you pristine results – send me a note through my contact tab.  I'll be trying to compile a list of great printer/toner combinations.