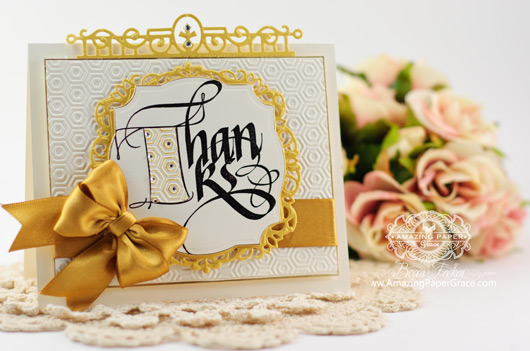 Hi friends, it's not very often that I have something that I term a masculine card to share — today I do. In fact, this is a simple go to card that I can do at any time just to say thanks. I chose a new stamp by Quietfire Design that has a calligraphy 'Thanks', but the 't' is hollowed out, hence the name Fill 'Er Up 'T' . I thought it would be an excellent opportunity to fill it with some texture and also use the texture as a background so I picked a small pattern in Spellbinders So Trendy embossing folder – Side B.  I cut out the hollow part of the 't' but it would have been just as easy to cut it out and simply pop it on top.
Here's how I made it – step by step:
I started out with a 4-7/8″ x 6″.  Using a Krylon pen, I edged a panel cut to 4-1/4″ x 5-3/8″ and embossed a panel using So Trendy Embossing Folder cut to just under the same size.  I added the top part of Spellbinders 5 x 7 Heirloom Legacy to the top of the panel before adhering with a double layer of foam tape.  Next I added a die cut layer using Spellbinders Decorative Labels Thirty Four  – adhered with foam tape and finished with my sentiment stamped on a die cut layer using Spellbinders Labels Thirty Four, rimmed with Gold Krylon Pen, adhered with foam tape.
Come see me tomorrow.  I've been promising to show you the area that I store my dies in and I finally got pictures!!  Also, I'm kicking off a new Blog Candy for clear cases!