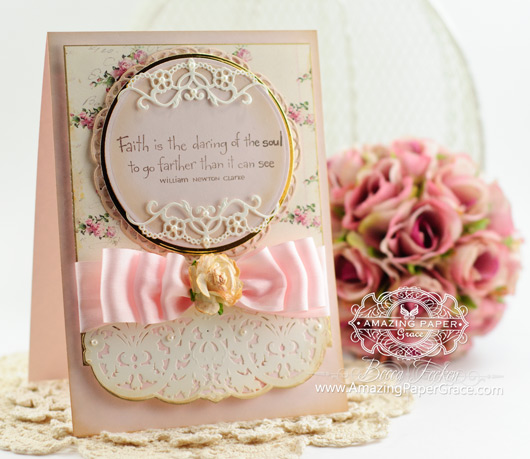 Good morning craft friends, I hope you're having a marvelous weekend (holiday weekend if you are in the US)!  Mine has been filled with talking to friends, my kids, great movies, some long walks and even some crafting time.  So what often happens when I sit down to make a card, is that I push around some paper and make progress but get to a point where I know something is missing.  That's how I know it's time to take a break :-)  This weekend when that happened, I just started picking up the scraps off of my table from cards made the last couple of weeks and it's crazy but that's how my card for today came about.   A couple of things laying together seemed just right.  I'm sure you'll recognize lots of the things I used today because I've used those color a lot lately.  At any rate, gotta love leftovers because you know we save every scrap!
The filigree pieces spanning the circles have been on my desk for a week or two and are a fairly new die called Spellbinders Corners and Accents One.  I drooled on my paper (just kidding) when I saw how gorgeous that tiny die was when draped across a pair of layered Spellbinders Standard Circles SM and Spellbinders Standard Circles LG  :-)  I love when that happens and as with many of my favorites, you will see these often.  Since I had circles for my focal element, I scrounged up a leftover cut out from Spellbinders Stately Circles to layer behind.  The sweet vintage bottom that I glued onto my design paper panel is Spellbinders Belgian Lace from the A Gilded Life line.
CRAFT SUPPLIES I USED
Rubber Stamps: Wordsworth Stamps – Life's Embrace
Craft Paper: Neenah Classic Crest – Natural White, pink, gold, digital paper from Iralamija's Etsy Store
Ink: Amuse Studio – French Roast, Shell,  Brushed Corduroy Distress Ink, 
Accessories: Spellbinders Corners and Accents One, Spellbinders Standard Circles SM, Spellbinders Standard Circles LG, Spellbinders Stately Circles, Spellbinders Belgian Lace, The Paper Studio Pearls, May Arts Silk Ribbon, Prima Flower
Thanks so much for stopping by today and have a lovely remainder of the weekend!  Oh, by the way, I've added quite a bit to my Pinterest Boards and I am genuinely enjoying contributing to my Instagram gallery these days – I've met lots of lovely folks.  Stop in and have a look – there's so much talent out there!!
Loraine Lewis on Comment #17 asked about the design paper I used.  It is a digital paper and can be purchased at https://www.etsy.com/shop/iralamijashop – you'll have to look through the rose listings, but it should be relatively easy to find.
Edna on Comment #22 asked where I got the sentiment used in this card.  I'm not sure where I purchased it, but here's a link to what the product looks like to help with your search: http://www.rubbersoul.com/collections/wordsworth-remembering/products/lifes-embrace   Not familiar with Rubber Soul but you'll be able to decide if they meet your needs.  Hope this helps!!
Marcia Tatters on Comment #36 asked how I was able to get a two toned look on the Belgium Lace.  Marcia, when you get the hang of this you'll love it – it's very easy.  Two dies come in the set – tape them together on the back with  low tack tape – one fits inside the other.  Take a not too dried out ink pad and pounce down on top (cutting side) of the die lightly (when I say lightly it would be like the kind of light touch you would have when you are going to wake someone up without startling them.  Why?  You only want color to go down on the highest levels of the die and not all the way down in the nooks and crannies.  Cover die with paper and run though with your paper to cut.  Run through one more time to emboss.  That's it.  Your best success will come with a fairly juicy pad, Tsukeniko Delicata works marvelously for this; I used a chalk ink not caring if the final look was distressed or not.  Hope this helps!!
Julie Blake on Comment #39 asked about the printer I use to print digital papers.  Happy to reprint this Julie because it is a frequently asked question.   Through no great research I have an Epson XP-300.  The only reason I have it is because it was the cheapest thing at Walmart at the time, costing about $49.00 and in my mind cartridges have not been too bad BUT, I only use it for scanning and printing the occasional digital paper and Cut and Print for my Silhouette Cameo.  Also, since this one is wireless and sits right in my craft room, I needed it to be fairly small – the footprint on this printer is 12? x 15?.  I like that I can print and use Copic and Spectrum Noir markers without the ink smearing.  The only downside is that it's finicky feeding in thicker paper like my Neenah 80# – it will work but I have to hold my mouth just right :-)  It works brilliantly for me because currently I spend way more money on design paper (much of which is wasted) than I spend on the printer, ink and electricity.  This is something I'm trying to flip in my budget :-).