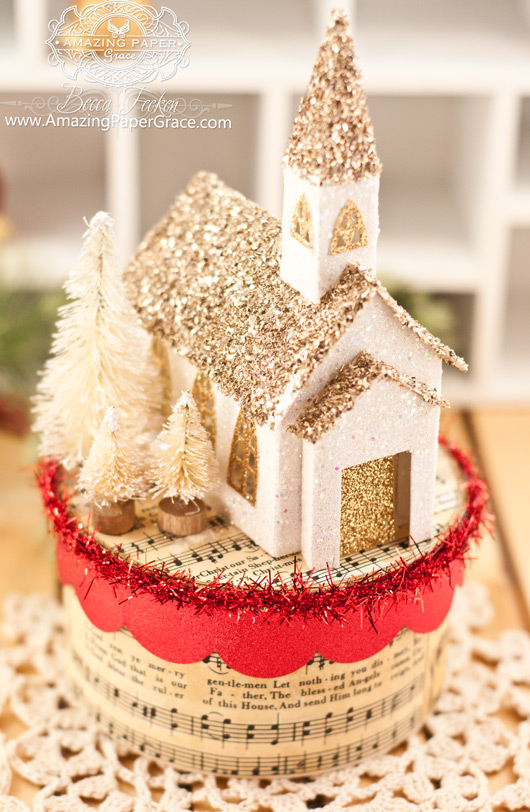 Hi there sweet friends!  Enabler Alert.  There, you have been warned because I'm absolutely going to gush about what I'm going to show you today.  If you are hopelessly attracted to glitter, all things vintage and Christmas, you just might have to look away. First of all let me tell you, I've been very quiet because I was traveling again.  I went to the west coast for a retreat and to see two of my dear, dear friends and along the way I got to see some new, adorable dies!   I went to Spellbound (3) in Pasadena, CA and Spellbinders is the major sponsor.  I gushed about this retreat last year on THIS POST.  It was such a lift for me creatively and simply filled my sails last year – so much so that my children made a way for me to return again this year.  I can't think of a better gift – I simply did not think that the retreat this year could top last year but this year was so very special and I'm still on cloud nine. Mission accomplished, sails filled, time with friends.  So this delightful little church is a new die available on the Spellbinders website – it's called the Spellbinders Beacon Street Chapel by A Gilded Life and it was designed by the dynamic duo of Shea Fragoso and her mom Debbie Murray – they revealed their new (A Gilded Life) line at the retreat!!  Simply put, you will want this one for your collection and it will take you through the year of holidays and occasions – Christmas, Valentines Day, Easter, Anniversary and Weddings.   Keep a look out for their new dies – they are simply magical!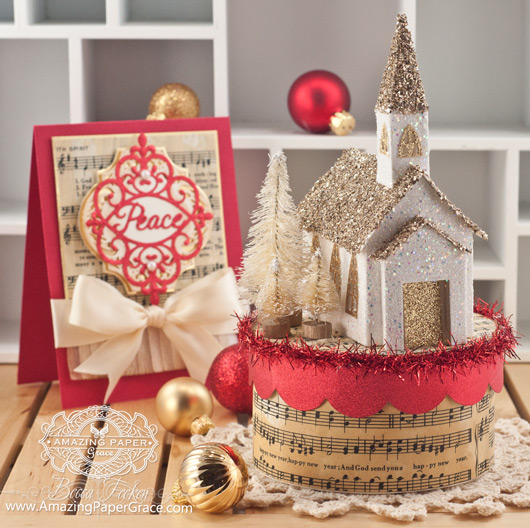 Okay, so on to what I did here.   This is the first one I've made, so everything went as planned and it was very easy to put together.  Click over to see all the pieces of the chapel and sizes and keep in mind, the two largest pieces are cut twice.  I used Stampendous Glitter Mix on  the church – it's a white glitter that has fine particles and large particles. The church windows are cut directly from gold glitter paper – I attached them first, then glittered the church walls.  The roof was glittered using a chunkier glass glitter.  The choice is yours, you can use glitter paper to make life easy or heap on spoon fulls of decadent glass glitter for amazing texture when you make this little charmer.  I'm already making more for gift items and decoration! Need more ideas on how this is used – check out this wonderful Pinterest Board (note you do have to sign up for Pinterest in order to get in but can do so using an email address)
The Christmas Music paper is a fabulous freebie you can find in the Free Printables section of my Pinterest Boards – there are quite a few carol selections.  I added a matching card using Spellbinders Labels Forty One – Decorative Elements, Spellbinders Labels Forty One and Spellbinders Peace Sentiment.
Edited to add:  The Church is 3-5/8″ deep, 2-1/4″ wide, 2-7/8″ tall not including steeple, 5-1/2″ tall including steeple.
CRAFT SUPPLIES I USED 
Rubber Stamps: None
Craft Paper: Neenah Classic Crest – Natural White 80 lb
Ink:  Brushed Corduroy Distress Ink
Accessories: Spellbinders Beacon Street Chapel by A Gilded Life, Spellbinders Labels Forty One – Decorative Elements, Spellbinders Labels Forty One and Spellbinders Peace Sentiment, The Paper Studio Pearls, Satin Ribbon, Paper Studio Glitter Paper, Recollections Champagne Glitter, Stampendous Glitter Mix, Art Minds Bottle Trees (Michaels), Balsa Wood Box (Michaels), crepe paper, white glue – Aleene Tacky Glue, Red Tinsel Trim – Hobby Lobby
Speaking of those who put wind in your sails . . . please come back tomorrow when I guest post for a wonderful company that has been so very sweet, plying me with kind words and generously spreading gracious encouragement.  Seriously, the craft community is small and you can never have enough good friends – I love these gals and I got a kick playing around with some wonderful things they sent me.  Come see, I'll be channelling pink and vintage for Christmas!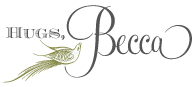 Question Parking Lot:
Updated post to include measurements and glue used is Aleene's Tacky Glue but any white glue should work fine.