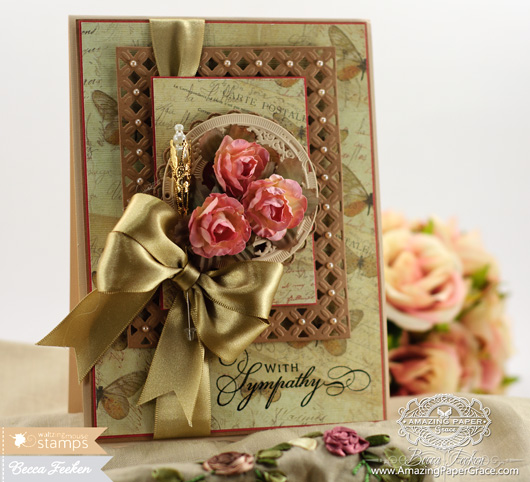 Hi there blog friends, I'm back with a card today.  The occasion is one I don't want to trumpet but this the very reason we make cards, right?  While I was away I learned of a death in the family of an acquaintance, so I took some time out to pay respects.  At first I thought it might be crass to make links and go over instructions, but thought twice because my friend would want me to.  Moreover, if it makes it easier for you to whip out a card and send it to someone that's hurting then I feel like I've accomplished something.    I can't tell you what a blessing it was when I received an abundance  of sympathy cards three years ago – they are treasured and I've kept them all together.   When I wonder if I could, should, or will make another card I glance through that box and remembered all the prayers that were coming in for me.
Sympathy is such a solemn occasion so I sought to do it justice with elegance.  During the August Release, Waltzingmouse Stamps came out with an insanely elegant set of sentiments called Big Day – Today which I stamped at the bottom of the card.  I built up may layers using a number of die templates including Spellbinders Diamond Effects, Spellbinders Gold Majesty Circles and Spellbinders Stately Circles.  
Here's your Step By Step Recap of die cuts and layers, from the bottom up:  Start out with a Card Base  7-1/2″ tall by 5-1/2″ wide (or see how to make that size with the Hinge Technique HERE) , foam tape, brown matting layer cut to 7-1/4″ x 5-1/4″ , dusty rose matting layer cut to 7-3/16″ x 5-3/16″, design paper layer cut to 7-1/8″ x 5-1/8″, foam tape, die cut layer using Diamond Effects, dusty rose matting layer cut to 2-7/8″ x 4″, design paper layer cut to 2-3/4″ x 3-7/8″, foam tape, die cut layer using Stately Circles #3, foam tape, die cut layer using Gold Majesty Circles #2, #3, and #4.  As always, stack, position ribbon, pearls and flowers on right layer, admire then glue!
Thanks so much for your kind words.  I'm so grateful for good health, good friends and home.  This week finds me tickled, humming and savoring my passion for crafts.  I hope you feel the same way too.