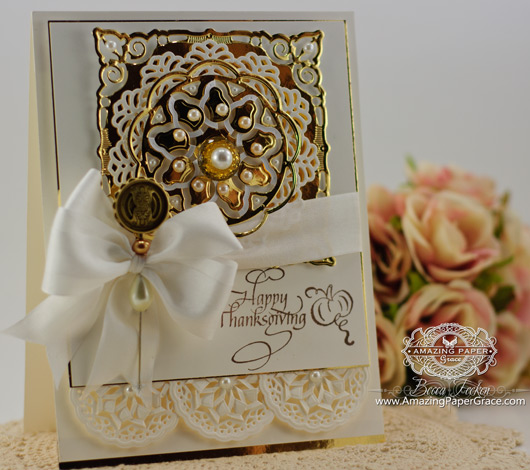 Blessings to you sweet blog friends.  The weather is turning and it's one of my favorite times of the year.  I love the bit of chill in the air and the pristine blueness of the sky when I step outside in the mornings.  I've had a lot of commitments the past several days but amidst  all the "'have-to-do's" I"m amazed how the forces converged to give me just what I needed and when I needed it.  I've had my head buried in work and for the past couple of days I've crossed paths with very good friends – those friends that balance me with the positive spirit that  filled my heart just as it seemed to be approaching "E".   After encounters like that I have to wonder to myself, how can you ever be too busy for friends when they have such a good and profoundly positive effect on your life??  Ah, but those are my musings – tho' I be old, I'll never, never be too wise…this much I know.   I've found to be creative and continue to love it, I have to find time to stop at the friend 'gas station' and often.  Which brings to me to today's card which harkens  an upcoming season of gladness; one of giving heartfelt thanks.  A Thanksgiving – To Give Thanks set in the mailbox from Quietfire Design was right on time!!  Not sure of my plans this year but I have a couple of invites and if I'm able to take one, I'll send this ahead to grace the elegant table.  I know my hostess will welcome the decoration.
This is a simple stack 'em up card and it features one of the new Spellbinders Circle Hat Pins, designed by Susan Lenart Kazmer.  My hatpin was already gold but since I was using bright gold on my card, I sprayed the hatpin bright bold to match.  I swear by Krylon Short Cuts,  because I can get most things in one coat and  I'm ready to use the item within 15 minutes.  I spray painted a button from my bin also, dropped it into the round bezel and filled it up with Ice Resin and set it aside to dry.  Once dry, I popped it on my card with pearls and finished the end off with the clear backing from an earring (found at craft stores that sell jewelry supplies).
Here's your Step By Step Recap of die cuts and layers, from the bottom up:  Start out with a Card Base 5-1/2″ wide by 7-1/2″ tall*  Foam Tape. Cut a gold mat 5-1/8″ x 5-3/4″, follow with a cream layer cut to 5″ x 5-5/8″.  Attach three circles cut from Spellbinders Whirl About along bottom of panel. Foam tape.  Die cut panel using Spellbinders Adorning Squares.  Foam Tape, Die cut panel using Spellbinders Vintage Lace Motifs.  Foam tape.   Die cut layer using Spellbinders Fascination.  Add pearls and ribbon.
*(Hint:  You get oversized card bases by cutting a 8-1/2″ x 11″ sheet in half at 5-1/2″  then glue the panels together.  Position the seam on the inside of the top flap – check out my Hinge Technique video to see how.
CRAFT SUPPLIES I USED
Rubber Stamps: Quietfire Design – To Give Thanks
Craft Paper: Neenah Classic Crest – Natural White (80 lb), Gold Foil Paper (Hobby Lobby Poster Board section)
Ink: Amuse – French Roast
Accessories: Spellbinders Whirl, Spellbinders Adorning Squares, Spellbinders Vintage Lace Motifs, Spellbinders Fascination, Spellbinders Circle Hat Pins,  Bazzill Button, Sewology Pearl Button, Recollections Pearls, Silk Ribbon, Krylon Short Cuts Spray Paint, Ice Resin (Hobby Lobby), Grand Calibur Die Cut Machine
From someone who frequently forgets and has no place to preach, please stop to smell the roses.  Fill up with family and friends — all else can wait :-)