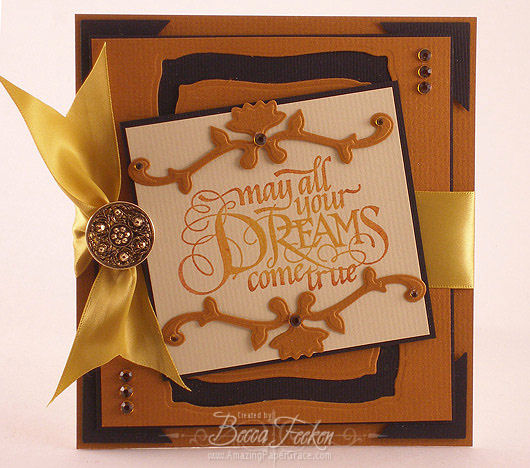 May all of your dreams come true!! If one of them came true, wouldn't it be a blessing? Well I wanted to share with you something so very sweet that happened to me that makes me a firm believer that there is a rainbow around every corner! About two months ago I was asked to take a spot on the Splitcoaststampers Design Team – the Dirty Dozen. It was so totally unexpected that it really knocked me off my feet. I was so honored that of course I said yes, so now I embark on a six month tenure with the finest papercrafters in the industry. I was inducted at the same time as another gifted stamper, Cammie over at MyBlogbyCammie. We cheered and supported each other through the first exhilarating month. Next month we will help as two new designers are ushered in. You remember me saying I was asked two months ago, right? Can you even imagine how hard it is to keep a secret that long!! Well I did and I'm so glad you're here to share with news with me today.
If you are not familiar with Splitcoaststampers or the Dirty Dozen please check it out HERE. Splitcoaststampers is a large stamping community that harbors a wealth of information. The Dirty Dozen is a set of 12 designers who produce elite projects that are shown in a special gallery exclusively available to The Fan Club. On the 15th of each month a new gallery is revealed to those who have a membership in the Fan Club.
We've been working over the last month to pull together samples that illuminate the theme of Making a House a Home. Seriously talented submissions are waiting for your perusal in the Fan Club Gallery – if you haven't joined the Fan Club yet, I hope you'll consider jumping in.
For my card I have gravitated towards one of my favorite color groups – I call this pumpkin. I set my stamped panel on top of a cut out using Spellbinders Mega Curved Rectangles then to illuminate the sentiment and give it a little bit of dimension I used a flourish piece from one of the New Spellbinders sets – Floral Accent # S4-199.
Card Recipe:
Stamps: Retired PSX
Paper: Bazzill, 140lb Strathmore Watercolor Paper
Ink: Colorbox Pigment Ink – Amber and Rust
Accessories: Ribbon, JBH Button, small adhesive jewels – Michaels, Spellbinders Mega Curved Rectangles, Spellbinders Floral Accent #S4-199